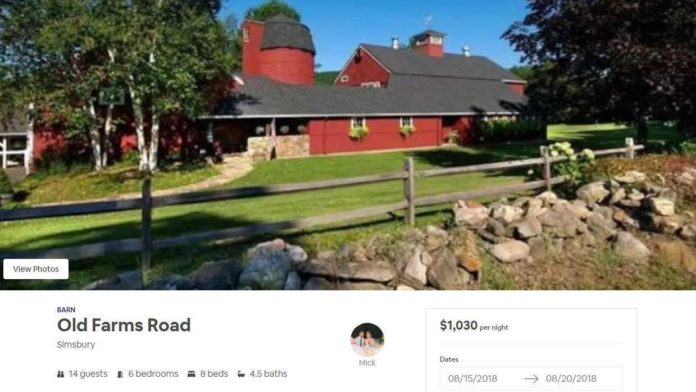 Airbnb announced this week that it generated $5.2 million in tax revenue for Connecticut in the past two years, but Simsbury has decided the home-sharing service is not welcome there.
The Farmington Valley suburb of about 25,000 joins the growing number of cities and towns — including Hartford — banning or regulating short-term rentals.
"One of the complaints we're hearing is the transient nature," said Mike Glidden, director of planning and community development in Simsbury. "They felt it's changing the character of the neighborhood."
Connecticut has collected taxes from Airbnb since 2016, when the state instituted the 15 percent hotel tax on the home-sharing service. The number of hosts in Connecticut since then has doubled, from 1,800 to 3,600.
Airbnb argues its presence benefits state coffers, boosts local businesses and helps families make ends meet, but neighbors in Simsbury brought the issue to the zoning commission because they disliked the constant coming and going of guests, Glidden said.
They were also frustrated by at least one property in a residential area advertising itself as a party or event space, he said.
Other concerns for the commission include safety hazards related to fire, health and building codes because lodging facilities are subject to different state requirements than individual family residences.
Simsbury decided last month current code does not allow short-term rentals, and the code compliance officer notified the town's 17 home-sharing hosts on July 13 that they should remove their online ads within 30 days or face possible further action from the town.
Violations of zoning codes can result in a $150 fine per day or even legal action, Glidden said.
Glidden said the town may create regulations for hosts in the future that would allow the service to come back to Simsbury, but nothing concrete is in the works yet.
Hartford is one municipality in Connecticut with specific regulations for short-term rentals, like those made through Airbnb.
The city instituted a permit requirement in October 2016 that forces hosts to register with the city and limits the volume of rentals to three distinct guest stays in a six-month period.
The three rentals also cannot last more than a cumulative 21 days in the six months. If a property owner wants to rent more than that, they must have a hearing before the planning and zoning commission to request a special permit.
Other regulations on short-term rentals stipulate no more than four adults and their children can stay in one home and that rooms must have "usable floor area of 70 square feet for one person and 50 square feet for each additional person, including children 1 year of age or older."
Sara Bronin, chair of Hartford's planning and zoning commission, said it's important to regulate short-term rentals because some property owners in essence turn a residential property into a commercial one, changing the intended use of the area.
"Short-term rental sites are definitely useful for vacation travelers," she said. "We just want to make sure they're compatible with Hartford."
Bronin, who is the wife of Hartford Mayor Luke Bronin, said so far, no one has requested a special use permit, and the city hasn't actively sought out hosts to force them to register.
She said most action against violators has come after specific complaints, but the city is looking to more strictly enforce the regulations moving forward. She said enforcing other major changes in the city's planning code has been the priority since the code was overhauled in 2016.
In West Hartford, short-term rentals are not allowed because the town bans "transient boarders."
Homeowners can rent out their extra rooms without a permit to "nontransient boarders," a term zoning enforcement officer Brian Pudlik said is not defined but he considers to mean renters who stay for at least six months or a year.
The town limits the number of unrelated people living together, though, to three before property owners need a public hearing for a special permit.
In Granby, short-term rentals are not allowed unless they meet code requirements set out for traditional bed and breakfasts, said Abby Kenyon, director of community development.
To operate a legal bed and breakfast, property owners must also have a public hearing for a special permit.
Kenyon said the town has considered creating specific regulations for short-term rentals through sites like Airbnb, but it hasn't been a hot-button issue recently.
"I'm sure there are listings," said Kenyon, who began work in April. "But we haven't had any complaints since I started."