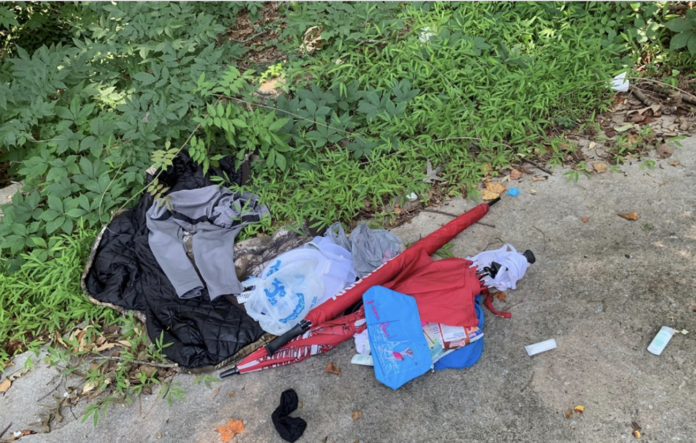 ATLANTA — A local Airbnb host said she is dealing with a nightmare situation after she said guests who booked her home left it vandalized.
Spirulina Sims said she is listed as a Superhost on Airbnb, which designates her as an experienced host "who provides a shining example for other hosts, and extraordinary experiences for their guests," according to the home sharing site.
But she said her guests took advantage of her well-kept property off Delmar Lane in northwest Atlanta. 11Alive spoke to the homeowner's sister, who did not want to give her name out of concerns over retaliation.
"They left the home looking as if something really bad came through here like a tornado," she said.Photos: Airbnb host claims her home was trashed
The homeowner's sister said she went to the home to tidy up the space June 29 after the guests left, but was shocked by what she saw.
"Right away I could see that something bad had happened," she said.
She said she found trash and wet linens left behind. Tools in the yard. And that's not all. The woman said when she took a look at the Ring surveillance videos, she was shocked.
In the videos shared to 11Alive, women and men are seen fighting, throwing wild parties, heard talking of a gun inside the home, and dozens unexpected guests coming in and out of the home.
"They were shooting at the shed, the front door, they tried to knock in the front door, they just beat up the property," the women said. "It was just a terrible event."
The woman said she called police after seeing the bullet holes, and an officer came to the scene. 11Alive has reached out to Atlanta Police for a copy of the report.
Meanwhile, Airbnb said they've contacted Sims to provide her their "full support" and to assist in filing a claim.
"The reported behavior has no place in our community, and we've suspended the guest associated with this reservation as we investigate," a spokesman for the company told 11Alive in a statement.
The company added that the property has a million-dollar insurance policy, per the Airbnb guarantee. Everything that was broken or reported stolen will be paid for, they said.
Airbnb told 11Alive in a statement that they've reached out to the homeowner to assist her in filing a claim and said that the company offers property damage protection of up to a million dollars.
But the homeowner's sister said she has doubts she'll rent again, and gave this warning: "Just be on the lookout," she cautioned. "You have to make sure also that you are OK."