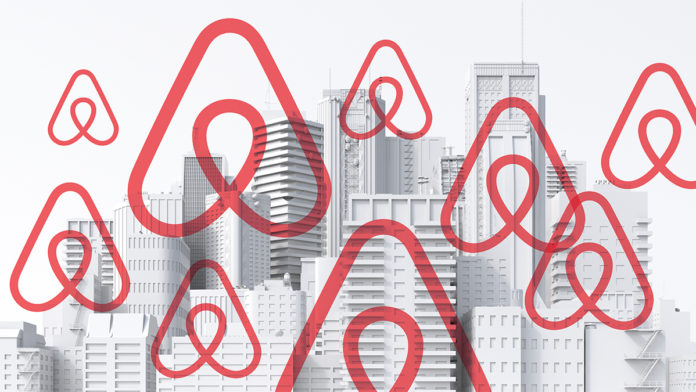 Lawmakers seeking to overhaul Silicon Valley's prized legal shield are getting more ammunition.
Fair-housing advocates are accusing Airbnb and other short-term rental platforms of abusing the legal provision that grants tech companies broad immunity for content people post on its platforms. They want Congress to ensure online rental services cannot ignore — and profit off— listings that violate state and local housing laws.
"These companies are knowingly facilitating and profiting from illegal listings all-the-while driving up the cost and access to housing and they must be held accountable," the groups wrote to members of Congress last week.
Most of the debate over Congress reviewing of Section 230 of the Communications Decency Act has focused on social media companies: Republicans argue they're using the law to unfairly silence conservative voices and Democrats say the act should be changed to ensure social media giants take greater responsibility for disinformation and other problematic content.
But this latest attack, coming just days before a House Energy and Commerce joint subcommittee hearing to examine the decades-old law, shows that changes could have consequences for other tech platforms such as online marketplaces.
The groups, led by the progressive group American Family Voices, are urging Congress to pass the Protecting Local Authority and Neighborhoods Act, which would clarify the law's application in this case — and make Airbnb responsible for illegal listings posted on its site.
"The Airbnb model essentially says, we don't care whether your vacation rental is illegal, we don't care whether your vacation rental is disrupting neighborhoods, we don't care if your vacation rental is jacking up housing prices and removing inventory from the local community," said Rep. Ed Case (D-Hawaii), a former hotel executive who introduced the PLAN Act, which is being considered by the full committee. "That model has had serious negative effects on communities across the country."
But Airbnb says the bill is nothing more than a ploy by the hotel lobby to stifle competition and that it "knowingly ignores" the company's record of reaching compromises with cities to enforce short-term rental rules and collect taxes.
"The protections and authority provided by [Section 230] make it possible for 7 million listings to operate on the Airbnb marketplace, fueling innovation and competition that benefits consumers to the tune of 2 million stays a night globally," Airbnb spokeswoman Molly Weedn wrote in a statement, adding that the company partners with more than 500 local governments and organizations around the world. "Furthermore, CDA 230 ensures Airbnb is able to screen content and block objectionable material."
Google and Reddit — whose representatives will testify at Wednesday's hearing — and other companies have also long pointed to Section 230 as essential to their ability to moderate content.
But the situation is even more complicated for online marketplaces such as Airbnb and even eBay, which argue that the immunity exempts them from being held liable for transactions by their users that violate state and local laws.
Airbnb has put this defense to the test, with mixed results. The company sued both Santa Monica, Calif., and Boston over regulations that compelled the company to enforce and monitor illegal listings.
Airbnb settled with Boston last month in a compromise that required residents seeking to rent their properties to prove they had permission to do so from the city, and for the company to develop stronger channels for the city to notify Airbnb of illegal listings. It reached a similar compromise with the city of Portland, Ore., in September.
But in Santa Monica a federal judge sided with the city, ruling in March that while the content of Airbnb listings are protected by Section 230, any illegal activity facilitated — in this case, a violation of a short-term rentals law — was not. Last week the same court upheld the ruling in another challenge against the Santa Monica ordinance brought by an Airbnb host.
Read more here.
Written by Tonya Riley for Washingtonpost.com