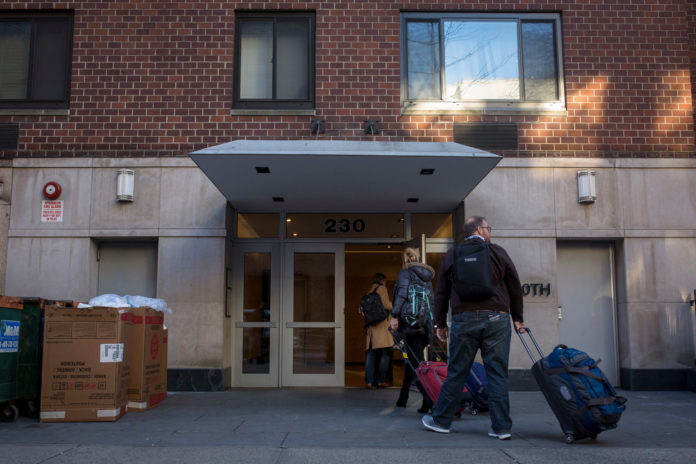 Over the years, tenants of a red brick residence in the Kips Bay neighborhood of Manhattan had begun noticing a growing number of people with suitcases cycling in and out of their 18-story building every weekend.
Many residents said they often heard the sound of luggage being rolled down the hallways of the 126-unit building.
The most observant tenants speculated as to whether some of the people they had seen in the building were tourists who had booked apartments through Airbnb.
"I kind of figured there were Airbnb's here," Kristi Muniz, 26, a consultant who lives in the building on 230 East 30th Street. "I always see families with suitcases, but most residents in this building are post-college or in nursing programs. I even recently told my neighbor 'I think our neighbors are an Airbnb.'"
On Monday, their suspicions appeared to be confirmed by a $21 million lawsuit filed by the city against a group of real estate brokers who are accused of using Airbnb to illegally rent out apartments in the Kips Bay building and at 34 other buildings in Manhattan, including an entire building in East Harlem.
According to the suit, the largest of its kind ever brought by the city, Metropolitan Property Group, a real estate brokerage firm, used a complex web of 18 corporate entities and fake identities on Airbnb to convert 130 apartments in the buildings into de facto hotel rooms.The front door of a building on 123 East 54th Street in Manhattan.CreditDave Sanders for The New York Times
It is illegal under state law to rent out apartments in most buildings for fewer than 30 days unless the permanent tenant is present when a guest is renting.
The lawsuit underscored what critics of Airbnb have long argued: that commercial operators use the platform to essentially turn residential apartments into illegal hotels for tourists, taking units off the market for New Yorkers and aggravating the city's housing shortage.
"I have no comment because it's not true," Sami Katri, the chief executive officer of the Metropolitan Property Group, said on Monday when reached by phone. "I'm not connected to anything."
A spokesman for Airbnb said commercial operators were not prevalent on their platform.
"This case is a clear example of just one thing: the ongoing need for a comprehensive, statewide bill that would provide for strict recourse against the few bad actors while protecting the rights of thousands of regular New Yorkers who are responsibly sharing their home," said Josh Meltzer, the head of northeast policy for Airbnb.
The Mayor's Office of Special Enforcement, which spearheads the city's crackdown on illegal Airbnb listings, estimates that about one-third of listings on the top five online platforms for short-term rentals, like HomeAway, in New York City are commercial listings.
According to the lawsuit, employees from the Metropolitan Property Group facilitated 13,691 rentals through Airbnb, housing more than 75,000 guests from 2015 to 2018, and taking in nearly $21 million.
Metropolitan Property Group "often utilized identical contact information and inaccurate addresses to set up these numerous distinct Airbnb host accounts and listings," the lawsuit said.
"I know there are sometimes issues with Airbnb hosts and regulations," said Stan Zylowski, 46, a business traveler to New York City from Arkansas. "Sometimes the listing will say 'Don't mention to my neighbors that we're an Airbnb.'"CreditDave Sanders for The New York Times
One real estate agent created at least 19 different Airbnb host accounts under the name of his spouse and her family, including her parents and brother, the lawsuit said.
Even after being notified by the city of potential legal action, the suit alleges, Metropolitan Property Group continued its deceptive practices.
Mr. Katri and four other current and former employees from the brokerage firm were named in the suit. The owners of five buildings the city inspected were also being sued for knowingly allowing the illegal short-term rentals to take place.
The lawsuit was filed almost two weeks after a federal judge blocked the implementation of a recent New York City law that intended to crack down on Airbnb and other online home-sharing sites.
The law, which the City Council passed unanimously last summer and was to go into effect next month, would have required home-sharing services to disclose to the city information about its listings, and the identities and addresses of hosts.
City officials hoped the data would help target hosts who rent entire apartments for short periods without being there, sometimes as part of a sophisticated commercial enterprise.
The judge's preliminary injunction was widely seen as a boon for Airbnb, which was valued at $31 billion in 2017 and plans to go public by mid-2019. Airbnb has more than 50,000 apartment listings in New York City, the company's largest market in the United States. The law could hinder its prospects if a significant amount of its listings are found to be illegal.
Each morning, get the latest on New York businesses, arts, sports, dining, style and more.SIGN UPAll the apartments in 200 East 116th Street in East Harlem were rented illegally through Airbnb, according to a new lawsuit.CreditDave Sanders for The New York Times
As the legal battle drags on, the city has deployed teams of inspectors to suspect buildings, issuing violations and filing lawsuits against landlords who are thought to be renting out apartments illegally.
"Over and over again, well-meaning visitors are being misled by sophisticated business people into booking illegal rentals," Christian Klossner, the executive director of the mayor's Office of Special Enforcement, said in a statement. "Only with better data and cooperation from the booking websites can we efficiently identify and shut down these operations."
In November, a team of city inspectors raided the Atelier, a 46-story luxury tower in Midtown, and issued violations against 20 different apartment owners who were accused of renting their units to visitors from at least 15 countries.
And last week, the city sued a real estate developer for more than $1.1 million for illegally using home-sharing sites to book 1,029 rental reservations in at least 13 apartments over more than three years.
On Sunday afternoon, three people hauled luggage from a black S.U.V. that had just rolled up to the Kips Bay building named in the lawsuit. The two men and one woman were in the city for a business conference and said they had rented a four-bedroom apartment in the building for less than $500 a night.
"I know there are sometimes issues with Airbnb hosts and regulations," said one of the travelers, Stan Zylowski, 46, a chief executive officer of a software company in Arkansas. "Sometimes the listing will say 'Don't mention to my neighbors that we're an Airbnb.'"
He added: "I'm a platinum Marriott member of 25 years, but hotels in this city are just too expensive."