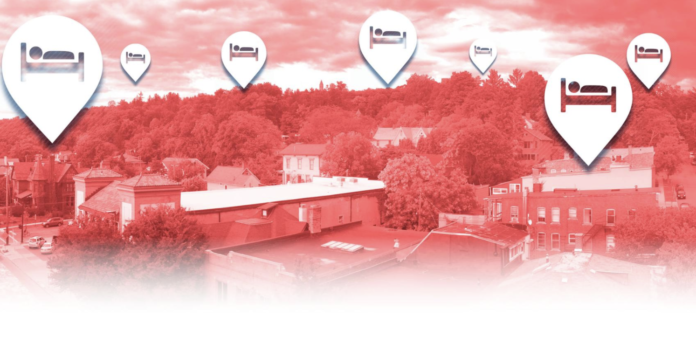 Airbnb has become a popular way for people to offset the costs they incur by owning a home in Tompkins County, especially when they feel overwhelmed by property taxes or otherwise. Using their home, or even just a single room in their home, as a short-term rental becomes an attractive option to alleviate some of that financial burden. Airbnb isn't the only company that does what they do, there are others like VRBO, HomeAway, etc., but Airbnb has become the brand most closely associated with the issue.
Home-sharing has become an increasingly common trend nationwide over the last several years, and that's especially true for Ithaca. In fact, last year at around this time, Airbnb published its own internal figures that showed Ithaca as the third most frequently visited city in New York State during Memorial Day to Labor Day last year; in total, Ithaca saw almost 27,000 guest arrivals, over 700 hosts booking and those hosts raked in around $4.3 million during that time period. Others in the top five were larger, more established tourist spots, like NYC, Buffalo, Saratoga Springs and Niagara Falls. Countywide information is unavailable, as the company only released information on Ithaca.
Parallel statistics weren't available for 2019 for Ithaca stays, but figures provided by Airbnb do show that the trend appears to be continuing. In total, Tompkins County hosts saw 34,500 guest arrivals during the summer of 2019, collecting $5.9 million of income during the time period as a result. Both of those numbers nearly triple the next closest county in the Southern Tier of New York.
The ballooning industry has been good news for some tourism entities. Tompkins County Tourism Planning Director Nick Helmholdt said thanks to a 2016 agreement between Tompkins County and Airbnb, the first of its kind in New York State, the county does collect room taxes from Airbnb stays, money that is paid directly by Airbnb. Similar agreements have not been established with other home-share providers. It's impossible to tell exactly how much of the total room tax collected by the county stems from Airbnb, but the overall number has steadily increased from under $1.6 million in 2009 to a high of $2.9 million last year. Since 2017, the first full year that Airbnb was collecting and paying the room tax, revenue from that tax jumped $400,000 in one year and has outpaced its budgetary projections in 2017 and 2018 by nearly $200,000. 
Yet there are, of course, numerous opponents, coming from both commercial and residential viewpoints. Those with concerns over neighborhood deterioration are usually the most vocal detractors, regularly speaking out at community meetings regarding the topic. Their central claim usually stems from a fear that more and more people will foresake actual home ownership and occupancy in favor of utilizing the property as primarily or solely a rental entity. In theory, that would subsequently lead to less families permanently residing in the neighborhood, reducing its attractiveness.
Read more here.
Written by Matt Butler for ithaca.com.