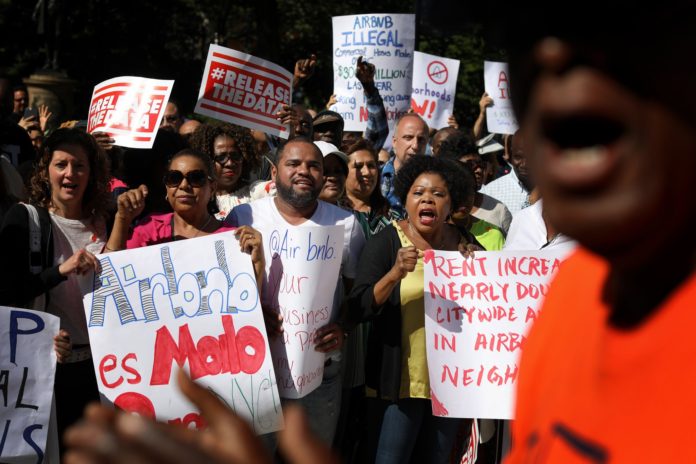 A group gathered in front of City Hall on Tuesday to support proposed legislation that would rein in illegal Airbnb apartment listings.
In an unusually crowded City Council hearing on Tuesday, lawmakers took on Airbnb as they discussed a bill aimed at cracking down on illegal online home-sharing listings that have turned residential apartments into year-round hotels for tourists.
The bill, which is almost certainly to pass with a veto-proof majority, would cap one of the most fractious battles in New York City to regulate companies of the so-called sharing economy. Council members are expected to vote on it later this summer.
If passed, the bill would require online rental services, like Airbnb, to disclose the addresses of its listings and the identities of its hosts to the city's Office of Special Enforcement on a monthly basis. Hosts would also have to list whether the dwelling was their primary residence and whether the entire unit or a portion was available for short-term rentals. Companies that fail to share the data would be fined up to $25,000 for each listing they did not disclose.
Lawmakers hope the data would help identify commercial operators with multiple listings who run illegal hotels in residential buildings. Commercial operators have long been a concern for lawmakers and housing advocates who say that Airbnb makes it easy to rent apartments to tourists, taking units off the market for full-time residents and exacerbating the city's affordable housing crisis.
"This bill has one clear priority in mind: protecting our affordable housing stock for the millions of New Yorkers who could not live here without it," said Councilwoman Carlina Rivera, who introduced the bill. Disclosing listing data would allow "more prosecution of bad actors who are pushing out tenants" in a "largely unmonitored rental market," Ms. Rivera, a Democrat, said.
Airbnb has more than 50,000 apartment rental listings in New York City, the company's largest market in the United States. But even as cities, such as San Francisco and Barcelona, have passed similar legislation, New York City has struggled to regulate Airbnb, which some critics say is rampant with listings of illegal hotels that flood apartment buildings with tourists and threaten the safety of residents.
Airbnb did not send officials to testify at the hearing because, "Council members should hear why this bill hurts regular New Yorkers directly from those hosts," Liz DeBold Fusco, a spokeswoman for the company, said.
In written testimony submitted to the Council, Josh Meltzer, the head of northeast public policy for Airbnb, said the bill places "the interests of the hotel industry above the interests of New Yorkers who rely on opening their own home to stay in their home."
Mr. Meltzer said that in the past year, the typical Airbnb host in New York City shared their dwelling for about five nights a month and earned about $6,400 a year, "reinforcing the fact that most hosts are not full-time 'commercial' operators, but everyday New Yorkers who turn to sharing their home part-time to make ends meet."
However, the city estimates that 20 to 30 percent of online listings "are operating with commercial frequency," Christian Klossner, the executive director of the Office of Special Enforcement, said during the hearing. Mr. Klossner said the legislation would "significantly enhance our ability" to target illegal hosts.
Olivia Lapeyrolerie, a spokeswoman for Mayor Bill de Blasio, said the mayor supports the bill.
The Airbnb legislation would mark one of the most significant steps that city officials have taken to curb the sharing economy since Mr. de Blasio endorsed, but then backed away from a plan to place a cap on the number of ride-sharing vehicles in 2015.
Mr. Meltzer said the bill unfairly targets Airbnb because it is limited to online platforms and would undermine the privacy of its hosts by having them consent to the disclosure of their personal information.
He also said that it would lead the city law enforcement agency to "harass and fine New Yorkers who share their own home."
In 2017, the Office of Special Enforcement received 1,800 complaints through 311 about short-term rentals and issued about 3,050 violations, amounting to nearly $7.2 million in fines.
The legislation could be a serious blow to Airbnb if a significant amount of its listings are found to be unlawful. Under state law, it is illegal in most buildings to rent an apartment for fewer than 30 days unless the owner is present when a guest is renting. But research has found that many tenants and landlords skirt the law and rent entire apartments for short amounts of time without being there.
In San Francisco, for example, Airbnb listings dropped 50 percent after legislation was passed requiring that hosts register with the city.
In New York, the proposed bill has pitted Airbnb against affordable housing advocates, hotel corporations and hotel workers unions, who have opposed the company's growing presence and shown a string of attack ads in the weeks leading up to the hearing. Airbnb retaliated last week by publishing a list of Council members who have received thousands of dollars in campaign contributions from the hotel industry and accused them of bias.