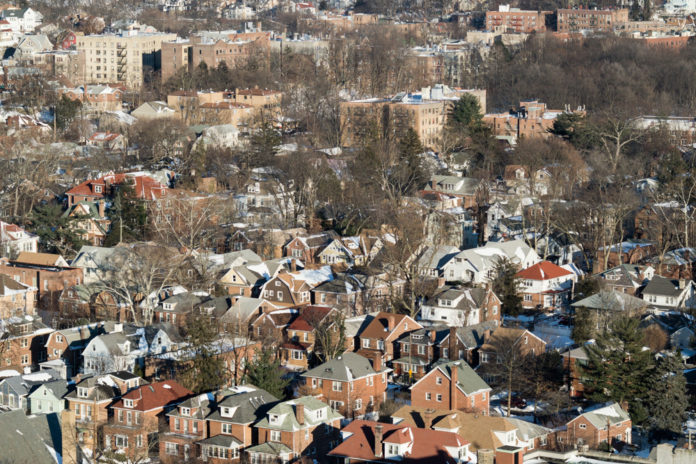 Airbnb has revved up its longstanding war with the city over a potential crackdown on the home rental business. And a couple local lawmakers are caught in the crosshairs.
The San Francisco-based company released a report last month detailing political donations from the hotel industry to city council members — money Airbnb claims is being used to slap the company with more regulation in New York.
The company has calculated that at least $450,000 was handed over to more than a dozen city council members during the 2013 and 2017 election cycles, including to councilmen Fernando Cabrera and Ydanis Rodriguez. The claims come at a time when the city council is considering a bill that would require rental services like Airbnb to reveal its hosts' names and addresses to the city's special enforcement office.
The bill, Airbnb argues, would lump "everyday people who occasionally share their home" with "bad actors" who run illegal 24/7 hotels, without offering the former any protections. And it's a product of the hotel industry targeting hosts.
Airbnb has more than 40,000 hosts in the city, said company spokeswoman Liz DeBold Fusco, "so there's a large group of people who stand to be impacted."
Airbnb connects people looking for a place to stay — sometimes for a night or two, sometimes longer — with people who might have extra room in their homes. It's been seen as a low-cost alternative to hotels, allowing homeowners to transform their homes into small bed and breakfasts.
But not everyone who offers rooms takes that approach. Airbnb opponents claim some of its hosts simply acquire blocks of apartments in the city, and turn them into makeshift hotel rooms. It's removing a number of available apartments from a city that already has a housing shortage — and, the critics add, it's had insufficient oversight by local officials. Especially compared to hotels, which work under more strict regulations.
"We agree home-sharing should be regulated," DeBold Fusco said, adding her company has supported it through legislation on the state level. One bill in Albany targets illegal hotels while also protecting the rights of hosts.
"What's concerning to us about the city council bill is that we believe it would jeopardize the privacy of hosts, the vast majority of whom are responsible, regular New Yorkers," DeBold Fusco said.
In addition to providing their names and addresses, hosts would be required to disclose whether the rental is for their entire home or just part of it. Failing to comply could mean a civil penalty up to $25,000 per unit.
One Kingsbridge Heights Airbnb host — who asked to remain anonymous for fear of retaliation from her landlord — called the existing platform "amazing."
Before using Airbnb, she depended on free classified listing websites like Craigslist or from personal referrals. And it wasn't good.
"I got robbed," she said. "People wouldn't pay me. I got burglarized. People would squat. It's a safety concern where you're dealing with people where there's no background info on them."
Thanks to Airbnb, she said, that's a thing of the past.
"There's profile information on" the guests, she said. "You can kind of vet them, ask them questions to see if they're a match for your style."
While lawmakers and housing advocates argue Airbnb exacerbates the city's affordable housing crisis, she disagrees.
"There's this whole thing, 'Oh, you're keeping people from renting homes,'" she said. "That's not how I see it." Airbnb is "actually helping me stay in my apartment because I've had peaks and valleys financially, and it fills in the gap."
But hosts who aren't breaking the law have nothing to worry about under the bill, Cabrera said. It's those who allegedly operate illegally who should be sweating.
"You have 40 members of the city council who fully support this bill," Cabrera said, meaning it could pass with a veto-proof majority later this summer. "Many of us have constituents who are part of the hotels union, so we are advocating for them."
Advocacy aside, "this is a transparency bill," Cabrera said. "Why would Airbnb be afraid for transparency in a city where we prize and we treasure transparency?"
And yes, advocacy groups and unions — like the city's Hotel Trades Council, donated to the city council campaigns. But Airbnb had that option as well, although council members like Cabrera state campaign contributions don't influence their votes.
"This is not out of the norm," Cabrera said, adding this current bill was all about affordable housing.
"We have landlords right now who are taking rent-stabilized units and renting them out like it was a hotel," Cabrera said. "Is that what we want in our communities?"
The city estimates between 20 and 30 percent of online listings are doing just that, said Christian Klossner, executive director of the special enforcement office, during a recent council hearing, adding the bill would help his office crack down on illegal hosts.
"Who in the world would not support a bill like this, if they are New Yorkers?" Cabrera asked. "This is a no-brainer. It's pro-affordable housing. It's pro-justice. It's pro-fairness."
Still, DeBold Fusco hopes Airbnb can lead the way to find an alternate solution, one that works for both the council and residents.
"We've done this in cities all over the country," DeBold Fusco said.
"San Francisco, Chicago, Seattle, across the pond in London, to find ways that we can share data without jeopardizing the privacy of our hosts. Certainly, the model does exist.
"I wish I could say, 'This is what we would do in New York City. This is the perfect solution.'" But "that would take form after open conversation — one that we're willing to have, but I don't think the city council is willing to have."