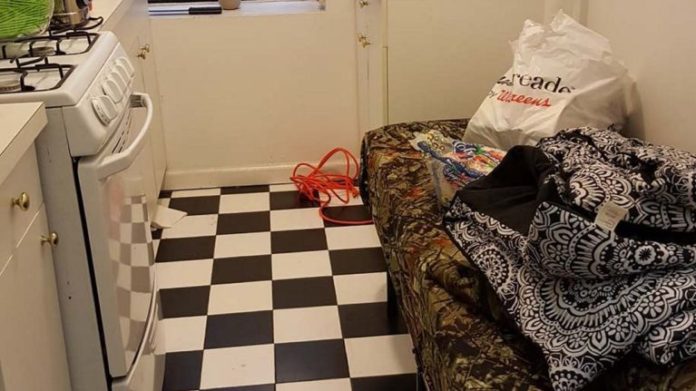 A kitchen of a Manhattan apartment was converted into a bedroom as part of a scam that illegally listed the residence on Airbnb, according to the Mayor's Office of Special Enforcement. Photo Credit: Mayor's Office of Special Enforcement
An "unscrupulous" Airbnb host is being sued by the city after he allegedly converted four apartments into illegal hotel listings that misled renters, placing them in hazardous living conditions, according to the Mayor's Office of Special Enforcement (OSE).
The lawsuit was brought against David Schuchter De Oliveira by OSE on behalf of 10 unnamed plaintiffs who detailed horror stories of being duped into staying in illegally converted apartments in Manhattan, sometimes with dozens of other guests at the same time. Schuchter De Oliveira rents, but does not own the apartments, three of which are located in rent-stabilized buildings, per a city spokeswoman.
One plaintiff, David, said he was led to believe he was renting a room in a young couple's guest bedroom with quality amenities and access to a shared living space, bathroom and kitchen.
"I first sensed something dubious about the host/listing when the key pick-up instructions sent me on a clandestine mission, several blocks from the apartment, to pick up keys from inside a small lockbox attached to a public telephone booth," he said, adding that he realized it was an illegal Airbnb as soon as he walked into the apartment.
David said the two-bedroom unit had been converted into a hostel-like hotel with five bedrooms, each with their own lock, one bathroom and no common areas.
"Each bedroom was furnished to sleep up to six people, except for the kitchen which had been converted into a bedroom with a single bed," he added.
Even the living room, the only space with direct access to the building's fire escape, was turned into a bedroom with a lock on the door, according to David, who said he was ultimately able to secure a refund through Airbnb and convinced the company to remove the listing from its website.
Similar living conditions were reported in three other buildings, according to the lawsuit.
One guest from Nevada, visiting her son who was receiving leukemia treatments, rented a listing called "Baltic room B" for nine days in January but when she arrived she discovered the room was actually a kitchen with a bed in it, according to the lawsuit.
Schuchter De Oliveira, along with several co-defendants, are accused of advertising the apartments – located at 321 W. 47th St., 714 Amsterdam Ave., 352 W. 46th St. and 340 Ninth Ave. – across 57 Airbnb listings via six different host accounts.
Over the past six months, at least 65 fire and transient occupancy-related violations have been issued at the buildings, per the lawsuit. The Department of Buildings has issued four partial vacate orders related to the addresses, citing "imminent danger to life or public safety" related to fire safety and overcrowding violations.
Several requests for comment from Schuchter De Oliveira regarding the lawsuit were not returned.
A spokeswoman for Airbnb said the company "strongly opposes" illegal hotel listings.
"That's why we've worked to identify and remove more than 5,000 listings that do not reflect our vision for our community under our one host, one home policy, which we have actively sought to make the law of the land," the spokeswoman said in an emailed statement. "It's also why we urge the City Council to work with us to take action against these few bad actors, while still protecting the rights of regular New Yorkers who are responsibly sharing their home."
OSE alleges that despite all of the violations, Schuchter De Oliveira and his associates continue to deceptively market the apartments, forcing the agency to file the lawsuit in an attempt to stop the practice. The suit also seeks to recoup unspecified restitution money for the plaintiffs.