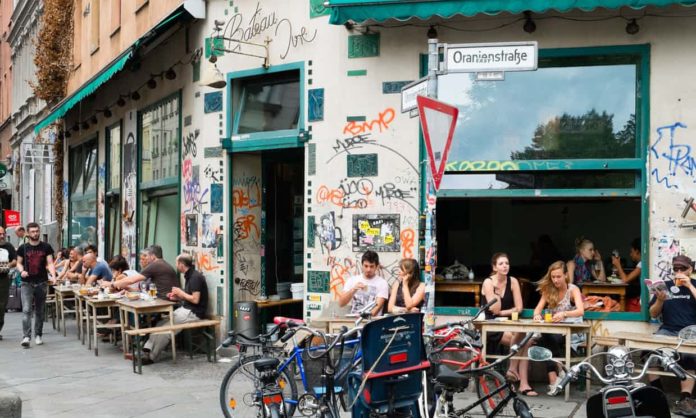 When Eckhard Sagitza and his team of Airbnb detectives roam the fashionable streets of Berlin's Friedrichshain district, they keep an eye out for pairs of colourful rent-a-bikes, locked outside the doorways of tenement buildings.
The recent explosion of dockless bike hire schemes in Europe's cities may have been decried by local politicians, but for the Sherlock Holmeses of the German capital's housing authority, they are a handy clue in their crusade against rogue landlords.
"If you see a pair of those outside for two nights in a row, there's a good chance someone in your building is letting out their flat to tourists," said Sagitza, who tracks down those breaching Berlin's stringent rules on vacation lettings.
His nemeses are professional landlords who buy up property with the sole purpose of making a fortune through holiday rentals, thus draining the city's housing supply, and pricing pensioners and low-earners out of the neighbourhood – an analysis Airbnb naturally rejects.
To track down his culprits, Sagitza also relies on residents who suspect their neighbours of illegally letting out their flats. They are encouraged to post anonymous tip-offs via a "snitches portal" on the Berlin authority's website, a controversial move in a city with a memory of the Stasi's mass surveillance.
But Berlin's activist approach to holiday rentals has started to pay dividends. Between April 2016, when the city brought back an old property misappropriation law and tailored it to those letting out flats via platforms such as Airbnb, and the end of last year, around 8,000 flats were returned to the regular rental market – more than twice as many as the city's own building company managed to construct in the same period.
In the trendy Friedrichshain-Kreuzberg district alone, particularly popular with young tourists from around the world, Sagitza's team have handed out fines of €1.7m (though collecting the penalties has been difficult: only €124,228 has been paid to the council so far).
Following a series of court cases and lobbying by Airbnb, Berlin's senate and city parliament earlier this year relaxed their law: owner-occupiers can now, under certain conditions, rent out their own home as much as they want, and rent out second homes for up to 90 days a year.
But fines have also increased five-fold to €500,000, and anyone who wants to rent out their main or second property must first obtain a €250 license – a response to the camouflage tactics used by online letting platforms.
Hard data has been hard to come by. "When we tried to get hold of information about one apartment," said Sagitza, "we were told to get in touch with Dublin, where Airbnb's servers are based." In Dublin, they were told that under Irish law the relevant data could only be obtained with a court order.
The new licensing system, said Katalin Gennburg, a Die Linke delegate for Berlin's Treptow district, could allow the city to shadow Airbnb's data on who is letting out an apartment where – as long as the home-sharing giant cooperates and requires license numbers to be displayed on its ads. The system is meant to be in place by 1 August but Airbnb says the city has been too vague about what it has in mind.
Those who want to get around the law probably will. Airbnb says its typical Berlin host shares his or her home for 30 nights per year and earns €1,900 euros, but a recent data-scraping project showed 10% of users rented out more than one flat, and some as many as 40.
Berlin's boroughs are administered as autonomous units, meaning any "power hosts" who spread second homes across the 12 districts would have a fair chance of evading the net of the Airbnb detectives.
Hopes that the "Airbnb law" will solve the city's housing crisis may be unrealistic: a recent study found Berlin has the fastest-rising property prices in the world. "Large parts of Berlin's population are being shut out of the city," said Sagitza. "If we do nothing, we are headed for a catastrophe".
Barcelona
Earlier this year, the holiday rental platform Airbnb launched #LoveBarcelona, a video campaign in which local hosts talk about how much they love having people stay with them and enjoy their city. It made staying in an AirBnB apartment sound like visiting a kind old uncle.
But for most of the city's residents, the company's image is far from avuncular. It is widely seen as benefiting from tourist demand and speculator-friendly legislation that is driving up rents to the point where residents can longer afford to live in the city.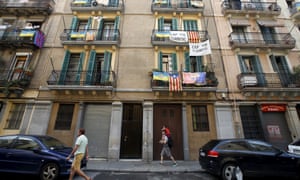 Airbnb claims 80% of the 18,531 homes advertised in Barcelona are the owner's only property. It also says that more than half of their hosts are "home sharers", people who rent out a room or two in their home in order to make ends meet.
That is not the experience of the city council inspectors whose job it is to root out illegal holiday lets. Aided by a hotline where residents can report what they believe are illegal rentals, the city has handed down 3,000 fines and 2,200 orders to cease activity, as well as fining Airbnb €600,000 in 2016 for advertising unlicensed apartments on its website (a fine the firm has yet to pay).
"All we ask is that Airbnb obeys the law," said Janet Sanz, the councillor responsible for housing. "Often when they say they want to negotiate, what they're really asking is to break the law, but that's not negotiable."
Sanz says Airbnb is lobbying in Brussels because it wants the EU to introduce laws overriding local legislation, including on home-sharing, currently not covered by any legislation in Spain. No one would object to someone letting out a room in their home, she said, but not five or six. "That's treating your home as a hotel."
Catalonia's law on tourist apartments essentially means they may not be let without a licence. "There are 9,600 licensed apartments," Sanz said. "We haven't issued any new ones since 2014, and don't plan to."
The city's problem is particularly acute because its social housing stock accounts for only 1.5% of the total, compared to around 28% in Berlin and more that 50% in Amsterdam. The national budget for public housing is currently zero.
Speculation and holiday rental platforms go hand in hand, Sanz said. "If you can earn €3,000 a week by renting to tourists instead of renting it out for €800 a month to a resident, then clearly there's a temptation to do so."
Rents in the city have risen by 29% since 2014, driven by tourist demand but also encouraged by a 2013 reform of the principal law governing long-term residential lets. The Spanish national statistics office calculates that in Madrid and Barcelona, rents have risen 12 times as fast as salaries over the past three years.
"Spain has the dubious honour of being the OECD country with the highest proportion of households spending more than 40% of their income on rent," said Jaime Palomera of the Tenants' Union. "In Barcelona, the rate is 45%. If they get into financial difficulties, they end up in the street."
Airbnb says its "community" of hosts attracted over €1bn into Barcelona last year, but others see the firm as simply a parasite. "Authorities are at war with a platform that takes value out of the city and destroys its fabric, without giving anything in return," said Palomera.