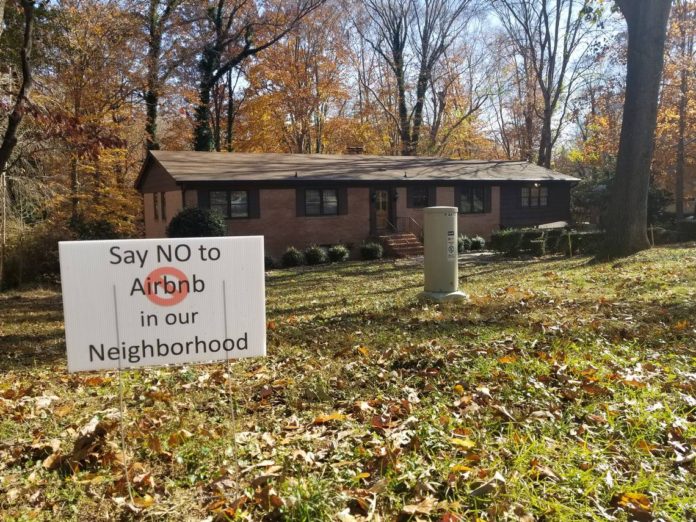 After two years, Terri Harmon knew she had finally found the perfect Raleigh neighborhood.
She and her husband had been looking for a quiet street, near work and close to places to shop and eat. But now they're frustrated that the house next door was recently listed on Airbnb.
Short-term rentals are technically illegal in Raleigh, but city leaders agreed to not enforce the ban until new regulations could be put in place. But that was years ago and there are now hundreds of rooms and homes listed on websites like Airbnb and VRBO in Raleigh.
More than 42,000 people stayed at local Airbnbs in 2017, but the city has only received complaints about short-term rentals at 37 locations since 2014. Only 23 of those addresses could be substantiated. There may be more complaints, but Raleigh doesn't track duplicate complaints for the same address.
The Raleigh City Council has discussed, convened task forces and voted on various rules throughout the years but it has never had enough votes to pass new regulations. A council committee took up the task this past week to hear from supporters and opponents of the short-term rentals and debate a new set of rules.
Some elected leaders wanted to end the Airbnb saga by year's end, but the council committee won't meet again until January.
Raleigh's new proposed rules
In several ways, Raleigh's new draft rules mirror those of Asheville, which bans short-term rentals across most of the city. One Asheville resident has more than $1 million in fines for illegal Airbnbs, according to the Asheville Citizen-Times.
Under Raleigh's proposed rules, only two bedrooms or guest rooms could be rented out and a resident would have to live at the house during the rental.
People who want to rent out their homes would pay a $208 fee and neighbors within 100 feet of the property would be notified, at the would-be operator's expense. No kitchen appliances would be allowed in those rooms, but the rules could be amended to allow a coffee maker or mini-fridge. And guests would be limited to two adults, with only four adults allowed in the house, including people who live there.
But there are still several things the council committee and, eventually the council, must decide, including off-street parking, whether backyard cottages could be used, and whether adjacent properties could both get approval for short-term rentals.. Council leaders will also have to decide if permits should be issued on a first-come, first-served basis or by lottery.
A whole house? Or just a room?
Missing from the draft rules is the ability for people to rent out their entire home.
That's an obvious sticking point for people who have rental properties solely for short-term rentals but also for potential guests who like staying in places without other people.
Steve Rehnborg, a frequent Airbnb customer, hates when he tries to get settled into a new place and someone tries to talk to him.
"I'm trying to do work because I've been traveling and all I want to do is stare at a wall, and now someone's 'Hey, how was your flight?Do you want breakfast? Do you want this? Do you want that?," he said. "It's less to me about should we do one bedroom versus two and the regulations around that."
It's more important, he said, to include whole-house rental rules.
One compromise that Mayor Nancy McFarlane has suggested is allowing people to rent out their entire home for a few weeks or months out of the year. But council member Stef Mendell wonders how such rules would be enforced.
Critics fear absentee landlords will snatch up modestly priced homes and turn them into whole-house rentals for Airbnb, reducing the number of affordable homes in certain areas. Limiting whole-house rentals to a few weeks or months should provide enough financial disincentive to not hurt affordable housing, McFarlane said.
'Just felt like home'
After living in Apex and Wake Forest, Harmons's northwest Raleigh neighborhood "felt like home" from the beginning.
After she and her husband moved in eight years ago, she said: "Some neighbors brought over a whole chicken with paper plates and forks and bunch of other neighbors introduced themselves. Some of them just helped us unload our moving truck. We were like 'this is amazing.'"
When the home next to theirs sold in May, Harmon and other neighbors said they greeted the newcomers the same way. They were told by the new owners that they wanted to move in before by the end of the year.
The three-bedroom house went up on Airbnb sometime in August.
Guests can pay $119 per night to stay in the home that can accommodate 10 people. The Airbnb listing touts its location in one of Raleigh's "most popular and safest areas" and "15 minute (drive) to downtown Raleigh and trendy Six Forks entertainment district."
The property is registered to Alan Bernstein, whose address is in Monrovia, Calif. Efforts to reach Bernstein through an Airbnb message were unsuccessful.
Harmon said the neighbors' biggest complaint is the number of guests and cars blocking driveways or preventing residents from parking on the street. They're also concerned about noise, their property values and that guests' dogs relieve themselves on her lawn and go unleashed. Neighbors have put up signs that read "Say no to Airbnb in our neighborhood."
Mendell plans to ask the city attorney's office if there's a way to help the residents on Connell Drive because of the council's years of inaction.
"That doesn't leave much recourse for those people who are living next to a really horrendous situation," she said. "I think all of us would like to get something resolved and on the books. It takes a long time to get people on the same page and get a compromise. So I don't know how long this is going to drag on but I don't think it's fair to the people who live next to these bad actors."
Helping pay the bills
Letting people rent one or two rooms out of their homes makes sense, Mendell said, but renting out an entire home concerns her.
"If you can rent your house for $1,000 per month or $1,000 per week, I think a lot of people are going to choose [to open an] Airbnb," she said. "That leaves people searching for an affordable place squeezed out."
But fans of short-term rentals argue they help property owners afford to stay in their homes. And they can be cheaper than staying in a traditional hotel.
"I have two young kids who are in daycare now and, frankly, [Airbnb] is a housing-affordability solution for our family," said Mary Sell. "It provides the ability for us to meet expenses and pay for our kids to go to daycare."
It was a similar situation for Cynthia Deis, who has three Airbnb listings. She was able to cut down the number of days and hours she worked and switch to a different job while making up the lost income through the rental properties. It also gives her more time to spend with aging family members and create relationships with guests who come to stay.
The typical Raleigh Airbnb host makes $5,000 a year. Her rentals were some of the first in the city. Now Raleigh has a majority — 640 — of Wake County's 890 Airbnb hosts, according to the company.
Visiting Raleigh authentically
In addition to the money, websites like Airbnb give visitors a chance to experience a Raleigh neighborhood and community in an authentic way, Deis said.
She points to one of her current guests, a woman visiting from Scotland to write a book about North Carolina, as someone who would rather stay in a home or room instead of a hotel. Other guests have restrictions and are unable to stay in traditional lodging.
During Tuesday's City Council meeting she spoke of a family with two children who needed a place to stay with a kitchen during the final days of a family member's life.
"They stayed really the last six weeks of her life," Deis said. "And they were here to spend as much time as they could with her. They needed a place that wasn't a hotel room. We had conversations where they said 'we couldn't do this in a hotel room.' One child had severe food allergies so I did extensive prep in the kitchen to make sure the place was ready for them. But also if you're traveling with a baby and toddler a hotel room is the worse place ever."
In her years of hosting she said she's only had one problem that affected her neighbors. A group of men were on the porch, drinking whiskey, being loud and smoking cigars. A different Airbnb guest texted her and she went over to ask them to quiet down.
"That is literally the only incident in all of my time," she said. "And I took care of it very quickly. I have other incidents as a host but they were things that affected me and not my neighborhood. There have been multiple times where a guest has burned a pan and hidden them in cabinets."
If Raleigh does ban short-term rentals, Deis said it will perpetuate the stereotype that southern cities aren't welcoming to all people.
"If we don't have Airbnb it's going to make Raleigh just look bad," she said. "I mean are we really going to try to attract tech jobs and be this 'one of the greatest places to live in the country' if we can't even allow Airbnb?"