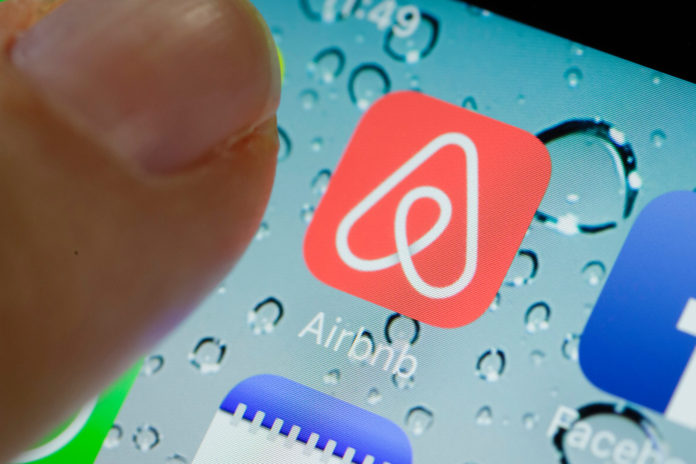 A hotel staff member (R) is seen seeking customers at a tourism fair in HCMC
Hotels have now proposed that authorities take measures to place the service under tighter controls, in line with prevailing regulations, to ensure fairness among hospitality enterprises.
Airbnb, the world's leading short-term home rental service, provided thousands of available rooms for rent two years ago in major cities, such as HCMC and Hanoi. Many experts and traditional hotel owners, particularly small-scale hotels, have expressed their concern that Airbnb hosts will soon become their rivals, due to the proliferation of this rental service.
The Vietnam Hotel Survey 2018 report, which was issued in July, reveals that the number of room listings on Airbnb in the two cities has exceeded 16,000, equivalent to that of two-to-three-star hotel rooms in HCMC, the country's largest city by population. In particular, data from the HCMC Department of Tourism shows that the city currently has 341 two-to-four-star hotels, consisting of 16,912 rooms.
As noted by a small-scale hotel owner in downtown HCMC, he has begun paying close attention to Airbnb, and following-up on its rapidly lengthening listings, as Airbnb renters are sharing customers with traditional hospitality operators, such as himself. Meanwhile, Airbnb hosts neither pay tax nor comply with hotel business regulations, resulting in unfair competition, said the hotel owner.
Also, a hospitality expert, Tao Van Nghe, said that it is hard to curtail the proliferation of home rental services like Airbnb, which presently affect many one-to-three-star hotels in the country. To cope with the rapid growth of home-sharing services, he supported the idea of maintaining control over them. For instance, tax agencies can consider levying a lump sum tax on Airbnb hosts, while tourism departments can manage them based upon criteria, such as evaluating the quality of rental residences, Nghe added.
Vietnam has yet to adopt a law managing home-sharing services, such as Airbnb, while countries such as Singapore, Thailand, and Japan already have specific regulations on these rentals, said Vo Anh Tai, deputy general director of Saigontourist Holding Company.
In particular, Thailand does not allow leasing residences through Airbnb with lengths of stay of less than one month. Renters violating this rule are subject to large fines. As for Japan, visitors leasing short-term lodgings must be approved by local authorities, adding that all residential buildings in Tokyo are no longer permitted to operate Airbnb services.