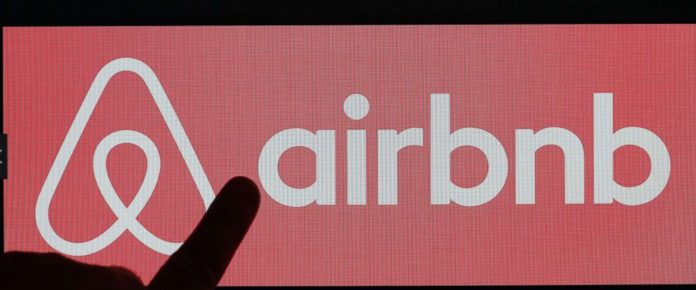 Strata council members of a Downtown Eastside condo building are calling the City of Vancouver's new licence requirements for short-term rentals flawed and ineffective.
Less than three months after the city passed a new law requiring owners or renters to obtain a licence to list their properties on Airbnb, the owners of condos on East Cordova say their building is overrun by illegal short-term rentals.
The owners say they are dealing with rowdyism, vandalism, garbage-strewn hallways, a short-term rental guest who urinated on to the sidewalk below and another who parked a Vespa in the lobby.
And large groups of people have been seen moving in and out of the building and leaving their luggage, along with ski equipment, in the lobby, said strata council member Brian Mennie.
A number of storage lockers were broken into on the weekend, leaving the strata with a $2,000 repair bill.
Mennie and fellow owner Amber Hui said the offenders are not residents, renters or locals, but some guests of a handful of suites belonging to owners who are ignoring the strata's own ban on short-term rentals.
They say a disproportionate number of noise and party complaints are about those suites and the key fob electronic system shows high access activity to them.
Mennie said the city's honour system to obtain a licence allows anyone to declare they meet the specifications for a licence — that the suite is their primary residence and there is no strata ban on short-term rentals — without providing proof.
They've complained to the city, but Hui said the strata has been waiting at least two months for a response and when they check the progress of their complaint, it remains "in progress."
"We're getting the runaround," said Mennie. "They say they're investigating (our complaints) and they're overwhelmed (by similar complaints)."
The city in an emailed statement said the "low-barrier" licence application process for short-term rentals was designed to enable residents to sign up online "quickly and easily."
"As a condition of receiving a short-term rental business licence, applicants must declare that they meet all the operator requirements and agree to audits and inspections, as requested, to verify the validity of the licence," the statement said.
The city said it would suspend a licence if it confirmed a false declaration, and if violations continued, fine the operator or take legal action.
"The city looks into all complaints received and if the operator is in contravention of our regulations, we will proceed with enforcement."
The city has received almost 2,000 complaints since they brought down new rules for short-term rentals in April, and more than a quarter (531) have been filed since Sept. 1, when the regulations became mandatory, a spokesman said in an email.
The complaints over the past three months have been averaging more than three a day.
City staff need the address and the online listing to investigate, and of the 1,928 complaints filed, the city has enough information to investigate 732 cases.
It will enforce the bylaw "when there is evidence of illegal activity," the email said.
Hui said the strata has also complained to Airbnb and hadn't received a response.
"When hosts sign-up on Airbnb in Vancouver they are required to fill out the licence field and must certify that they will comply with local rules before they list their space," Airbnb spokeswoman Lindsey Scully said in an email.
She also said negative incidents are rare and Airbnb has developed Neighbour Tool to help settle disputes such as this one.
But Hui said the strata hasn't had any success with Neighbour Tool, noting when they had their storage lockers burgled, a drop-down menu option advised only to call police.
Police opened a file on the theft and vandalism but Vancouver police spokesman Const. Jason Doucette said illegal suites are a civil matter between owners and strata.
He also said while at least one storage locker theft in the past was traced back to a short-term rental guest, there's no evidence that shows buildings with short-term rentals are more prone to criminal activity than buildings without them.
Hui said it's unfair that strata councils have to fight illegal short-term rentals on their own without any help from the city or short-term rental apps to determine licence applicants meet the bylaw requirements.
"Who's losing out in this and who's profiting?" she said. "Airbnb is making money on the listings and the city collects its fee."
The strata has had to fine offending owners $200 a week, but the fines aren't being paid and at least one of the owners is disputing the ban, saying he should be grandfathered.
The strata is considering raising the fine to $1,000 a day, the maximum allowed under the city bylaws, and is exploring other legal options.