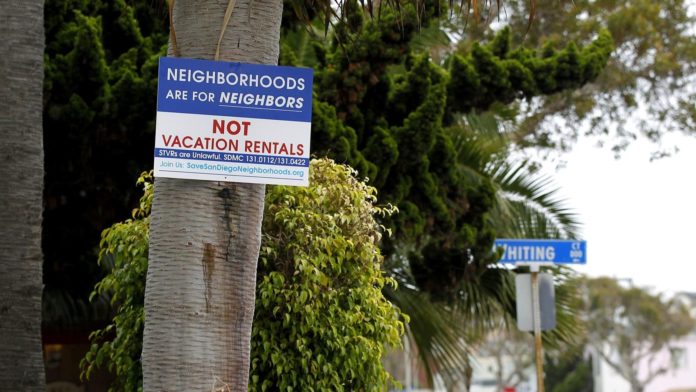 The San Diego City Council will revisit the contentious issue of regulating short-term rentals in a public hearing expected to draw hundreds of people. (K.C. Alfred / San Diego Union-Tribune)
In a video message circulating on Facebook, a Crown Point mother of three frets about the "aggressive" strangers regularly partying next door in their Airbnb rentals. The ad, funded by a hotel industry trade group, ends with the woman's urgent plea to the city of San Diego: "It's time for the mayor and the City Council to protect neighborhoods and stand up for families."
Supporters of San Diego's burgeoning short-term vacation rental market are trying a less-emotional approach in their social media pleas, relying on economics to drive home their message: "Short-term vacation rentals," says a Twitter post, "have been a clear win for the San Diego economy! $482 million in local spending and 3,000 new jobs! We can't afford to throw away this economic windfall."
The dueling marketing messages are emblematic of the deep divide over Airbnb-style rentals that has left San Diego with no clear rules regulating the popular home-sharing industry.
Constituencies on both sides of the heated debate are hoping that will change on Monday when the City Council tries to tackle, yet again, the vexing issue of how to regulate — and rein in — the thousands of homes being rented out on a short-term basis.
What is different this time is that the council will be weighing what is being characterized as a compromise proposal by Mayor Kevin Faulconer's office. It was crafted following months of meetings with community stakeholders, along with short-term rental platforms including Airbnb and VRBO.
Faulconer stepped into the fray late last year after an hours-long December council hearing seeking to impose new rules on short-term rentals ended in a deadlock. Similar impasses have dogged the council during multiple hearings in the past three years.
The centerpiece of the mayor's plan would allow vacation rental hosts to rent out their primary residence while they are not present for up to six months a year — plus one additional home with no limit on the number of days annually.
It is that portion of the proposal — the ability to rent out a home that is not one's principal residence — that will likely inspire the most heated debate on Monday. Despite the limitation, neighborhood groups fear that investors who already own and rent out multiple vacation properties will be emboldened to find ways around the provision. The regulations would allow renters as well as homeowners to obtain a license.
In a move to tamp down the proliferation of rentals, Faulconer is proposing three-night minimum stays in the more saturated coastal areas and downtown San Diego. A steep licensing fee of $949 annually — believed to be the highest in the country — would be charged for each whole home rented out for a period of less than 30 days. Expected revenues of $3.5 million a year would be used to fund up to 16 new positions in multiple departments, including the police, to enforce the new regulations.
A nightly affordable housing fee of $2.76 would also be imposed.
Another controversial element of the proposal would allow unlimited rentals in Mission Beach, long a haven for vacation home rentals during the summer season. The community, which objects to the proposal, would still be subject to the licensing regulations and fees.
Councilwoman Lorie Zapf, whose district includes many of the beach communities, sent a memo late Thursday to Faulconer indicating her desire to see the "carve-out" of Mission Beach removed. She called it "an issue of fairness" that the community be "treated the same as the rest of the city."
Faulconer's proposal is less prescriptive for unlimited home sharing where the host is present. Such rentals would not require payment of a licensing fee. For homes with five or more bedrooms, a more costly, rigorous review would be required.
Whether the mayor's attempt at a compromise, or some version of it, can win majority support of the council on Monday remains to be seen. In a surprise move on Friday, Councilman Chris Ward, who last year had supported a proposal that would have permitted individuals to operate up to three short-term rentals, switched course and said he now favors limiting whole-home rentals to one's primary residence.
"What I have heard loud and clear is that the real or potential negative impacts outweigh our current ability to implement sufficient regulation of investor short term vacation rental properties," he said on Facebook.
Complicating matters is a letter the city received Friday from the California Coastal Commission reminding council members of the importance of short-term rentals as a more affordable option for overnight stays along the coast. The commission, which will be required to weigh in on whatever is adopted for the coastal areas, said it favors the mayor's proposal.
Getting buy-in from Airbnb
Key to brokering Faulconer's plan was getting buy-in from the short-term rental platforms. His proposal would require Airbnb and VRBO and the dozens of smaller players to help ensure their hosts are properly licensed, although the specific requirements have yet to be defined.
"When it comes to platform responsibilities, we are very comfortable with the result that the mayor's office has laid out here," said Phil Minardi, spokesman for VRBO and HomeAway. "It's a compromise, so I don't think you'll find anyone who will say this is exactly what they wanted or that this is absolute garbage."
Airbnb is supportive as well, but suggests that whatever is adopted will likely be tweaked as San Diego adjusts to its new rules.
"Certainly there are aspects we're concerned about, the fee being one of them given how high it is," said Airbnb spokesman Christopher Nulty. "But our willingness to work with that is the best example of our willingness to compromise. We're certainly willing to do what it takes to help implement the rules, but at the end of the day, enforcement is best left in the hands of the city, not the company."
Although the mayor's proposed regulations may have mollified supporters of short-term rentals, critics remain determined to block any effort to allow short-term rentals beyond one's primary residence.
In a meeting Thursday night of a grass-roots coalition largely representing coastal areas, the group's board made it clear that if the council were to vote in favor of allowing people to rent out a home that is not where they reside, it will mobilize to defeat other "tourism-related initiatives," like efforts to expand the city's convention center, said La Jolla Town Council president Ann Kerr-Bache, who also heads the short-term vacation rental working group.
The group also has the support of the California Hotel & Lodging Association, which spent $250,000 on a digital media campaign.
"The reason we are against the mayor's position allowing primary residences, plus one, is that it allows outside investors to buy up properties to turn them into cash cows and will fundamentally change the character of our neighborhoods."
In the decade since Airbnb popularized the home sharing industry, San Diego's estimated tally of vacation rentals has grown to more than 11,000, the majority of which are entire homes that are being rented out for short-term stays, according to the data analytics firm Host Compliance.
Like San Diego, cities across the globe have wrestled with how to manage the burgeoning growth of such rentals. Large urban destinations, from San Francisco to New York to Paris, are increasingly imposing tougher rules, and Los Angeles' elected leaders have signaled their intent to limit rentals for short-term stays to primary residences only. Still other cities, like Seattle, have been more permissive.
Investor loophole?
While the mayor's proposal goes farther than past efforts in the areas of enforcement and licensing, Monday's debate will be centered on, as previous hearings were, just who should be permitted to rent out homes for short-term stays.
Councilwoman Barbara Bry, who favors limiting vacation rentals to one's home and for no more than 90 days a year, believes the Faulconer proposal opens the door to potentially unlimited rentals throughout the city, even with enforcement.
Investors could purchase several rental properties and "simply have the titles put in others' names," Bry said in a commentary published recently in the Union-Tribune. "Without the crucial primary residence piece, absentee investors will continue to commercialize single-family homes and turn them into mini-hotels in our residential neighborhoods."
Elyse Lowe, the mayor's director of land use and economic development policy, doesn't deny that such a scenario could occur but believes a robust enforcement plan, coupled with daily fines starting at $2,500 per violation, would discourage such activity. The hosting platforms are subject to even higher penalties, she said.
"There is no great way for us to legally limit who can be the host, other than determine that it has to be a responsible party," said Lowe, who has shepherded the mayor's proposal. "If you don't own it and you end up in a contractual agreement to be the host so that it could be sublet, the host shoulders quite a bit of responsibility, including fines and administrative citations and would go to court if the license is revoked.
"When we required that the host be a 'natural person,' we're not allowing corporations to be the host. So if someone owns 20 of these, they'd have to find 20 different hosts, that's arduous for someone to do."
Lowe says she has heard directly from some larger short-term rental operators that they are considering transitioning to the long-term rental market should the proposal be adopted.
Ocean Beach resident Edwin Decker, who has rented out three units as short-term rentals with family members for the last six years, says he understands the need for tough regulations but worries that he will lose the lucrative income his family has been enjoying from vacation rentals.
"We spent a lot of money to renovate the places, to make them rentable and now to have to turn around and go back to the way we were, that would be a loss for us," he said.
However, Decker says he and three of his family members are named on the property title, which Lowe surmises may allow the short-term rentals to continue under the mayor's proposal.
Enforcement San Francisco-style
Lowe said San Francisco's experience with regulation shows that scrupulous enforcement will be key to the success of whatever plan is adopted.
Airbnb's hometown hasn't exactly been as welcoming to vacation rentals as San Diego. When San Diego began trying to come up with some basic regulations three years ago, San Francisco's elected leaders were already passing a law limiting short-term rentals to one's primary residence and for no more than 90 days a year.
But the city's crackdown was not up to the task of capturing all scofflaws. After San Francisco's Board of Supervisors later passed legislation holding companies liable for costly fines and criminal penalties for unregistered properties, Airbnb filed suit, later joined by HomeAway.
A settlement of that suit last year required the platforms to assist San Francisco in registering their hosts, which included providing some data on their listings to ease the process of ensuring hosts are registered, explained Kevin Guy, director of San Francisco's Office of Short-Term Rentals. Audits are conducted monthly, he said.
"Airbnb and VRBO don't open their books entirely but they do include listings and registration numbers," Guy said. "We take that data and compare it against a monthly scrape of the website by a consultant, and we can stitch it together to see who's properly registered."
Since the settlement went into effect last year, listings have continued to fall, with those on Airbnb alone dropping from a one-time peak of nearly 8,500 to 3,600, said Guy. Many of those were dormant listings, says Airbnb.
"We're the only jurisdiction in the U.S. where we have a platform liability component, and while we had to go through this prolonged litigation, we came out with a process that, rather than by going host by host, allows us to monitor the situation en masse," Guy said, "Now we can directly communicate with VRBO and Airbnb and ask them to take down listings."