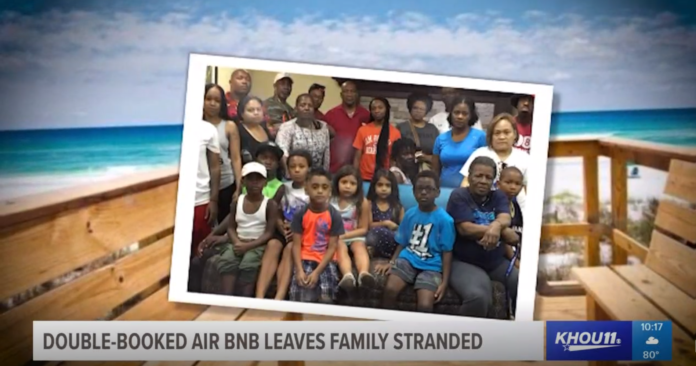 "It turned out the family staying in the house reserved the same property on a different home rental website. It was double booked."
HOUSTON – A "do over" beach trip was just what the Ellis family needed after Hurricane Harvey canceled their cruise in 2017.
Nothing could go wrong this year on vacation in Destin, Florida right?
Wrong.
Reggie Ellis rented a large house on the beach at the home rental website Airbnb. The Destin home had 6 bedrooms and 6.5 baths. They would need the space. There were 28 family members going on the trip.
The family was scattered from Houston, Dallas and parts of Louisiana and all met up in a 7-vehicle caravan on I-10 East.
When they arrived, Reggie Ellis contacted the host for the door code.
"I put the key code in, opened the door and took a step in," Ellis said. "I could hear a family upstairs talking."
Confused and fearing for his safety, Ellis walked back out and shut the door. Everyone in his party was thoroughly confused.
It turned out the family staying in the house reserved the same property on a different home rental website. It was double booked.
Dana Burnside is Ellis' mom.
"My heart was broken," Burnside said. "We had planned this trip for the last year. We've been doing the countdowns every day for the last month."
Hotels were full, and Airbnb sent the family links to contact hosts and see if other large properties had openings. Just about every place big enough was booked except one. That home was more expensive.
Doris Reed is Ellis' aunt.
"We reached back out to Airbnb, and we asked, 'Hey, here's one that's available,'" Reed said. "The host has agreed to host us for that night. When they said that house was too expensive and unreasonable for us to even be asking about it, at that point, that's when I lost faith."
After 7 hours of trying to find another place to stay, everyone was exhausted.
A few of the family members are military veterans and suggested going to nearby Eglin Air Force Base for the night. Once they got inside the gate at the base, all 28 family members slept in their cars.
The next day, they found their own lodging.
Eventually, they got a refund from Airbnb plus $1,500 for the hassle but felt like no one took responsibility for what happened.
"You would think that there would be some kind of process in place, some kind of protocol," Burnside said. "You hope things go well, but if they don't, what do you do to make sure this doesn't happen?"
We asked Airbnb that question. They explained negative incidents are extremely rare. Airbnb also wrote in a statement, "While we know nothing can give back the quality time they should have been able to spend together in Destin, we offer our deepest apologies to Mr. Ellis and his family for having undergone this experience. We will continue working to educate hosts who list the same home on other platforms in addition to Airbnb about the importance of keeping calendars up to date."
In messages back and forth with the family, the host contradicts Airbnb, saying, "This is not our fault. Airbnb allowed a reservation to be made even though the property was already booked."
We tried to contact the host for comment on this story, but we never heard back. What's still not clear is how the family was given a code to get in the house when another family was already in there.
Either way, the experience has a loyal Texas family thinking twice about using Airbnb again.