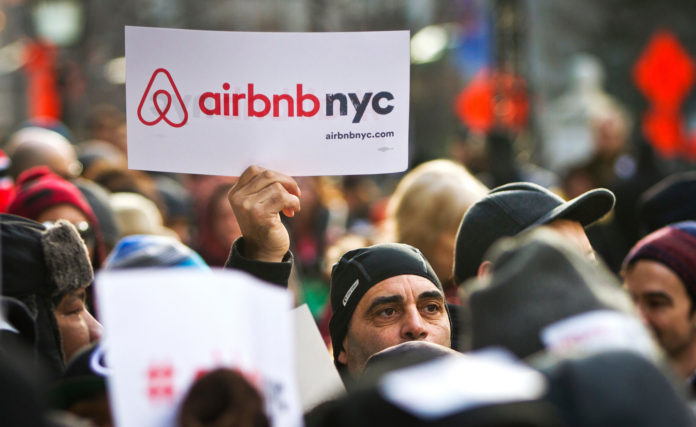 "We knew that whatever happened at the city level, this issue is solved at the state level," said Josh Meltzer, who is in charge of public policy at Airbnb in the northeast. "Our focus is Albany."CreditBebeto Matthews/Associated Press
Still reeling from a law New York City enacted last week that cracks down on Airbnb, the home-sharing website now has its sights set on Albany, where it hopes state lawmakers will pass legislation the company favors.
To draw attention to a bill in the State Legislature that would allow Airbnb to collect taxes from its guests — much like hotels — Airbnb announced on Wednesday that it was donating $10 million to a handful of nonprofit organizations. The company said the donations represent a small part of the $100 million in annual tax revenue the state could receive if lawmakers approved the bill.
"We wanted to make the point of what the impact of tax collection and remittances would be if we were able to collect on behalf of our community here," said Josh Meltzer, who handles public policy for Airbnb in the northeast.
The multimillion dollar donation marks a renewed effort by Airbnb to rally support in Albany after a string of failed attempts over the years to convince lawmakers to change state law to legitimize the home-sharing service, which has grown increasingly popular among New Yorkers.
But Airbnb, like Uber and other tech giants, has come under fire for its impact on the housing stock in dense metropolises like New York City, its largest market in the United States. The company has been criticized for supposedly allowing hosts to transform residential buildings into illegal hotels for tourists, taking apartments off the market for New Yorkers.
Most markedly, Airbnb has struggled to forge effective political alliances in New York, where it has faced fierce opposition from an influential hotel workers union and advocates of affordable housing.
Just last week, Mayor Bill de Blasio signed a bill — passed unanimously in the City Council — into law that requires short-term rental companies like Airbnb to give the city the addresses of its listings and the names of its hosts. If a significant number of its listings are found to be illegal, it could be a blow to Airbnb.
The company is now focusing on the pending Albany legislation, which has been stalled in committee since it was introduced 16 months ago by Assemblyman Joseph R. Lentol, a Democrat whose district includes part of Brooklyn.
"It hasn't been able to get out of the housing committee, mostly because of lobbying efforts from others who see this as a dangerous bill," Mr. Lentol said on Tuesday. "There are too many people on the other side that don't want to legitimize Airbnb and want to see it operating underground."
The bill, which has a companion in the Senate, would allow Airbnb to collect the same taxes from customers in New York State that hotel guests typically pay, including sales taxes and the New York City Hotel Room Occupancy Tax. (Airbnb already collects hotel and tourist taxes in more than 400 jurisdictions, including 23 New York counties.)
The proposed legislation would also effectively legalize a significant number of the apartment listings on Airbnb's website by amending a state law that makes it illegal in most buildings to rent an apartment for fewer than 30 days unless the owner is present. It would also allow hosts to legally list rent-stabilized apartments on Airbnb under certain conditions.
"We knew that whatever happened at the city level, this issue is solved at the state level," Mr. Meltzer said. "Our focus is Albany."
But if history is any indication, Airbnb faces an uphill battle in Albany, even with a super PAC that has spent millions of dollars in aggressive ad campaigns.
After a fractious battle, Gov. Andrew M. Cuomo signed a bill in 2016 allowing hosts to be fined up to $7,500 for listing apartments that violate housing regulations. In fact, Mr. Lentol's bill received backlash from a large contingent of Democrats when it was introduced. The legislation has 18 co-sponsors, compared to the nearly 40 co-sponsors who have signed onto a separate bill introduced this year by Assemblywoman Linda B. Rosenthal, a Democrat whose district includes the Upper West Side of Manhattan, that would place more stringent rules on Airbnb.
"To me, this is about a company that has suddenly realized that it has no more friends left and because of that it is trying to form new relationships," Ms. Rosenthal said of the Airbnb donations. "It's like an arsonist that sets a fire and then goes to put it out."
Airbnb split the $10 million between seven organizations, including established umbrella groups like the New York Immigration Coalition and the New York State Rural Housing Coalition; community initiatives like the Abyssinian Development Corporation in Harlem; and social services providers like Win, whose leader is Christine C. Quinn, the City Council's former speaker.
Ms. Quinn said Airbnb's $1.5 million donation was the largest one-time gift ever made to Win, which provides housing and other social services to homeless women. Airbnb, she said, had donated a total of $150,000 in prior years.
"It creates, really, the possibility for Win to help break the cycle of homelessness," she said about the contribution. She declined to discuss her views on Airbnb or the proposed legislation in Albany.