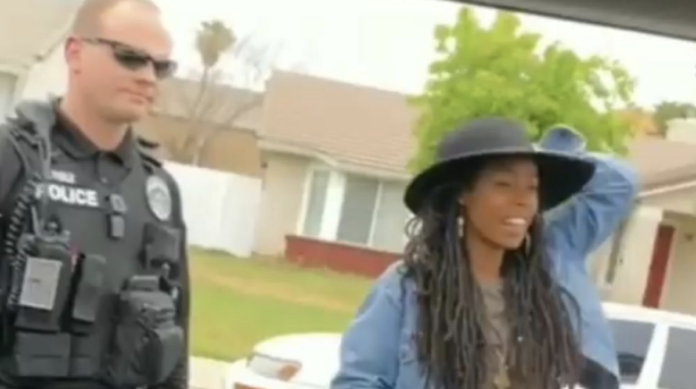 A Black woman who vacationed with friends and stayed at a California Airbnb said they were swarmed by police and detained after a neighbor reported a group of Black people were taking luggage out of a house.
Call it a case of vacationing while Black, which joins the ranks of other racially insensitive run-ins with cops where Black people have had police called on them without cause, manhandled or brutally beaten.
READ MORE: Black men arrested at Starbucks settle for $1 each and $200K entrepreneur program
Kells Fyffe-Marshall, a film director, posted the exchange on Facebook. And while she laughed the incident off at first, she became increasingly frustrated when it proved tough to reason with police:
She wrote:
"During our time in Cali we have been staying at an Airbnb. The 30th was our second morning and at about 11am we checked out. The four of us packed our bags, locked up the house and left. As you can see 3 of us were Black. About 10 seconds later we were surrounded by 7 cop cars. The officers came out of their cars demanding us to put our hands in the air. They informed us that there was also a helicopter tracking us. They locked down the neighborhood and had us standing in the street. Why? A neighbour across the street saw 3 black people packing luggage into their car and assumed we were stealing from the house. She then called the police.
"At first we joked about the misunderstanding and took photos and videos along the way.
About 20 minutes into this misunderstanding it escalated almost instantly. Their Sergeant arrived… he explained they didn't know what Airbnb was. He insisted that we were lying about it and said we had to prove it. We showed them the booking confirmations and phoned the landlord… because they didn't know what she looked like on the other end to confirm it was her.. they detained us – because they were investigating a felony charge – for 45 minutes while they figured it out.
"We have been dealing with different emotions and you want to laugh about this but it's not funny. The trauma is real. I've been angry, fustrated and sad. I was later detained at the airport. This is insanity."
Their harrowing story began to make the rounds on social media over the weekend sparking outrage.
Airbnb has since responded to the incident and have reached out to the victims of this incident, expressing their full support.
READ MORE: Four-Year-Old "Superhero" Feeds the Homeless
"Airbnb's mission is to create a world where anyone can belong anywhere and we have aggressively worked to fight bias and discrimination in society. We encourage anyone in similar situations to contact us. We are also reaching out to our partners at the NAACP, National Action Network, Color Of Change, and others to discuss this matter and ensure we are doing all we can to protect our community when they travel," the statement reads.
READ: Airbnb reacts to Black women detained by police because white women thought they were robbers
"While we do fundamentally believe in the power of travel to break down historic barriers and have faith in our fellow humans, we will continue to do all we can to make sure our Guests feel like they belong when they travel to different communities around the world."