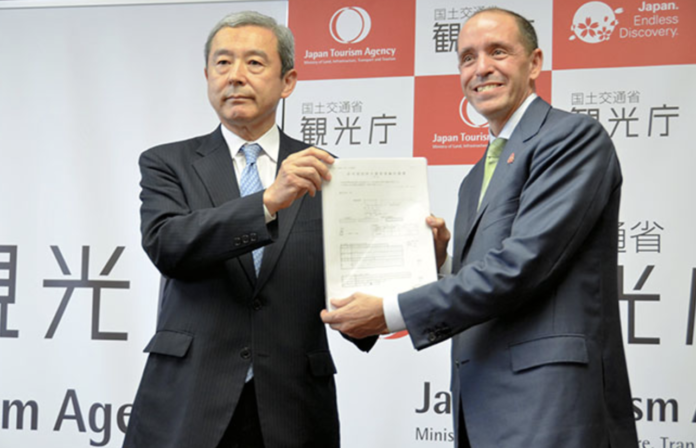 Airbnb was still advertising what appear to be illegal lodgings as of June 20, including some with apparently fake registration numbers, despite a new law clamping down on the practice.
The "Jutaku Shukuhaku Jigyo-ho" (House stay business law) regulating "minpaku" private lodgings took effect in Japan on June 15. It requires people or companies to register their rooms with local governments before they can rent them to tourists for overnight use.
U.S.-based Airbnb Inc., the world's largest intermediate agent for short-term property rentals, requires minpaku operators to submit their registration numbers for publication on its website.
Responding to The Asahi Shimbun on whether fake registration numbers are listed on its site, an Airbnb spokesperson said, "We are now looking into the situation. We are carrying registration numbers, which were submitted by minpaku operators, on our website as they are."
The government's Japan Tourism Agency (JTA) is investigating all intermediate agents, including Airbnb, and has instructed them to report registration numbers of listed properties by June 29 for confirmation of their validity.
According to the JTA, local governments had received a total of 3,728 property registration applications as of June 15. If an application is approved, the applicant is given a registration number consisting of the letter "M" and a nine-digit figure.
The first two digits of those figures range from 01 to 47, representing Japan's 47 prefectures. Tokyo is represented with the number 13, so registration numbers of rooms in the capital start with "M13."
When The Asahi Shimbun checked registration numbers of rooms posted on Airbnb, it found several that are not registered with local governments.
For example, a search of the Airbnb website for a room in Tokyo's Shinjuku area for one adult for one night from June 20 brought up 82 properties as of 5 p.m. on June 19.
Of those, 28 rooms carried registration numbers, only 14 of which matched numbers registered with local governments. The remaining 14 registration numbers started with combinations that are not valid in Tokyo such as "M23" and "M72."
"All of the properties that have been permitted to operate in Tokyo start with 'M13,' so there is a possibility that the remaining 14 properties are being operated illegally," said a Shinjuku Ward government official.
A JTA official said, "There is a small possibility that those numbers are the results of simple mistakes or system errors. But we suspect that they are illegal properties using false numbers."
Of the 82 search results, 54 did not carry registration numbers, and 49 of them displayed the word "Exempt," meaning that they are simple lodgings, inns and hotels that are allowed to operate under the Inns and Hotels Law. Five properties carried neither registration numbers nor exemptions.
An Airbnb spokesperson said on June 15, "By yesterday evening we had stopped carrying minpaku properties that do not have (registration) numbers."
The Inns and Hotels Law stipulates that those who operate minpaku without permission can be fined up to 1 million yen (about $9,040).
According to the JTA, intermediate agents that operate their websites have to check whether different properties are using the same registration numbers.
"But they are not required to confirm whether registration numbers (submitted by minpaku operators) are authentic," said an official of the JTA's Tourism Industry Division.