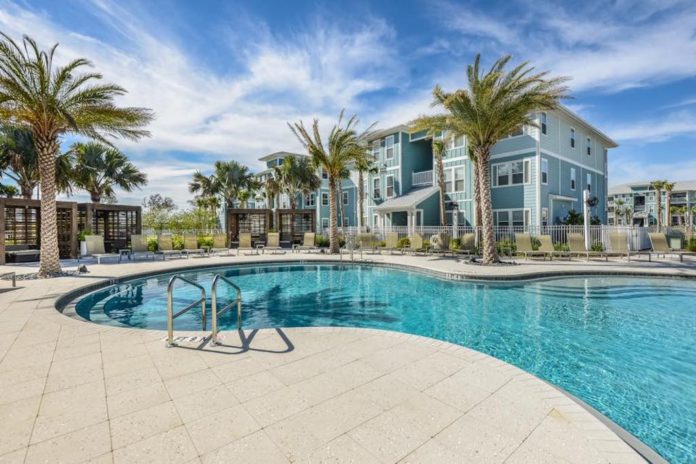 The developer behind Niido Powered by Airbnb is gearing up in just a few weeks to open the first location of its Airbnb-friendly apartment-hotel complex in Kissimmee, Florida, near Orlando.
But before it does, Miami-based Newgard Development Group has an important challenge to overcome: convincing the complex's current tenants that they want to "live a life worth sharing," as publicized on Niido's website.
That's because Newgard has failed to properly disclose to residents of Domain Apartments that it is set to become the first Niido Powered by Airbnb location until very recently, according to residents of the complex.
Niido and Newgard CEO Harvey Hernandez and co-founder and chief marketing officer Cindy Diffenderfer declined to confirm whether Domain Apartments would become the first of four planned Niido Powered by Airbnb complexes they plan to open throughout the southeastern U.S. But given recent news reports, resident accounts, and postings on the official Facebook page for 324-unit Domain Apartments, it is clear that Domain is preparing to become a Niido Powered by Airbnb property.
In a Niido Powered by Airbnb apartment building, tenants are encouraged to rent out their units on Airbnb when they're not using them for up to 180 days per year. When they do, their landlord — in this case, Niido — takes a 25-percent cut from whatever revenues they make from homesharing. Airbnb receives its regular commissions from the host and the guest.
That revenue-sharing model is the foundation of Airbnb's Friendly Buildings Program, which now counts nearly 16,000 units and counting worldwide in which landlords like Newgard/Niido are actively encouraging their residents to share their homes in Airbnb.
The partnership that Airbnb and Niido have is similar to how hotel companies work with owners and developers, one primarily dependent on branding/marketing alone. The homesharing service is lending its name to Niido to allow it to use the Airbnb name to market and brand these apartment buildings, but Airbnb is not directly operating or managing them.
WHAT'S HAPPENED WITH DOMAIN APARTMENTS
In mid-October, Newgard officially announced its plans to launch Niido Powered by Airbnb in Kissimmee with a new apartment building development, but wouldn't yet specify a first location, except to say that it would open sometime in the first quarter of 2018.
Two months prior to that announcement by Newgard, Domain Apartments had already opened its doors to renters in August. It marketed itself as "modern tropical living" for young professionals who work at the nearby theme parks like Disney World and Universal Studios, as well as the nearby, still-under-construction Margararitaville Resort Orlando. The complex was a joint venture between Tampa-based DeBartolo Development and Encore Funds, the developer of Margaritaville,
But it wasn't until mid-December that Newgard purchased the relatively new luxury property for $57.7 million.
It was also in December that Newgard announced that it had received  $220 million from Brookfield Property Partners and Silverpeak Real Estate Partners to grow the Niido brand.
Back in December, when Hernandez publicized Niido's $220 million institutional backing, he seemed to imply that the first Niido would be a newbuild and that incoming residents would be fully informed of their property's Airbnb-friendly status. He also acknowledged that future Niido communities may be developed from existing apartment complexes.
But it wasn't until late March of this year, when tenants were informed they'd be receiving brand-new smart locks and doors, that they slowly began to realize what was really going on with the building's new owners, and its newly installed management company, RAM Partners.
"Many of my fellow tenants and I signed leases earlier in 2017, before the ownership change, and were excited to live in a new community where we could get to know our neighbors," wrote Amanda Crane, a Domain Apartments resident, who contacted Skift directly.
"Now, we feel blindsided. We were told we are receiving new doors with smart locks, which alerted us to dig deeper and figure out why they would replace brand-new doors," she said. "What we found was that Newgard Development and Niido intended to surreptitiously take over our community to launch their new Airbnb timeshare operation. My fellow community members and I are afraid that our now quiet and safe community will turn into a vacation destination filled with strangers who have no motivation to maintain the peace of our neighborhood."
Crane's concerns were echoed by other residents on the Facebook page for Domain Apartments.
Beth Heise, another Domain Apartments resident, said she felt "blindsided" by the word-of-mouth news that spread among residents once they started realizing they had to book an hour-long appointment with the new property manager to initiate the process of getting the new smart locks and doors installed.
"They didn't say anything about the time being an hour-long slot," Heise told Skift. "We thought we could come and go during that hour to schedule a time to install the lock. Now we know why the session lasted an hour — they wanted time to tell us about Domain changing."
Heise also wrote on the apartment's official Facebook page, noting that an article published in December by GrowthSpotter.com laid out Newgard's plans to transform Domain into a Niido Powered by Airbnb building. Hernandez and Diffenderfer said they "have no comment" regarding that report.
Another resident, Sofy Safter, wrote a recent review of the apartment complex on Facebook that said, "I am very upset about all the lies Domain gave us since day one and now the modern tropical living it's going to turn into a tourist resort. We [are] paying enough money to have a peaceful home not to have this type of place."
Crane, Safter, and Heise's complaints are similar to those shared by a number of people who have previously expressed their concerns about their apartment buildings being transformed into unofficial hotels by neighbors using Airbnb and other short-term rental platforms to rent out their units.
In May, 2016, Airbnb even launched its own Neighbor Hotline for people to share those concerns, which relate to issues like noise complaints, safety concerns, and use of common spaces.
CONFLICTING CONCEPTS OF WHAT IT MEANS TO BUILD COMMUNITY
At issue for Crane, Safter, and Heise is the fact that they'll soon have to share their luxury amenities with Airbnb guests, and not just their neighbors. The potential impact of this change on the community that's been cultivated at Domain is one of a number concerns they share.
And it's interesting that, for two brands that have focused so heavily on "building communities," that Newgard would go about developing a community in this way with one of its projects.
Airbnb declined to comment for this piece.
What's happening at Domain Apartments, however, seems squarely opposed to Airbnb's long-held vision of a creating a utopian global community where homesharing benefits all.
It's one thing for the residents to have known, going in, that their building would be an "Airbnb-friendly" one, and quite another to endure the bait-and-switch approach that Newgard's Niido has taken here.
Heise told Skift that she and her family were never formally informed about Domain becoming a Niido Powered by Airbnb, and that they only learned about it through a neighbor. That resident said she had learned about the plans during her informational meeting with the new management company to discuss installation of the new smart locks.
"I have spoken with a lot of [other Domain] residents through Facebook, and they are mostly upset about being in the dark about this, as this is a surprise, and we feel we should have been told about this when we moved in or signed a contract, which we were not told," Heise told Skift. "The management group seems to be afraid of our opposition and is not sure how to handle it."
Heise also told Skift that when Domain was under its original ownership and management, a public forum was held to allow residents to discuss the possibility of allowing tenants to use Airbnb to rent out their apartments when they weren't using them.
"The previous management company did not say anything about Niido or permanent Airbnb at all or anything related to this contract/deal/whatever you want to call it that Domain has," Heise recalled. "Basically, they said we were able to do Airbnb if we wanted to. I just remember how a couple of people were interested, but a lot of people were not interested, and did not like the idea. I guess someone brought up voting because they were wondering if we could vote on it … but voting wasn't an option and it wasn't an option to forbid guests from doing Airbnb."
Skift spoke to Daniel Maggard, the RAM Partners property manager for Domain, who also confirmed that "changes are coming in the future" with regard to subletting at the property. Maggard said that current leases and those previously signed by residents like Heise do not allow for any subletting of any kind. However, he confirmed that soon, Domain would be the "safest bet in the whole area" for engaging in short-term rental activity. He said there would also be "definitive answers available in the next week or two" regarding the changes.
A recent update to the Domain Apartments Facebook page also shows that the management company and Newgard planned to host an informational meeting on April 3 for current and prospective residents to learn more about the property's transformation into a Niido complex. That meeting, however, was rescheduled for a not yet set date.
That meeting, it appears, is part of the "very robust education program" that Newgard CEO Hernandez said "will be deployed before we open Niido Powered by Airbnb in Orlando." He added, "We want to make sure everyone is informed and ready and understands the benefits associated with it. It's the right thing to do."
In the case of Domain Apartments, however, it seems that miscommunication and a lack of full disclosure may be to blame for some residents' anger.
As Skift recently reported, Airbnb-friendly apartment complexes like Niido may very well represent the future of private accommodations. And while some people are not comfortable with living in buildings like a Niido, there are those who are.
A recent survey conducted by the National Multifamily Housing Council, for example, noted that more than half of its respondents, ages 25 to 34, and more than 60 percent of those under the age 25 are interested or very interested in the ability to participate in homesharing.
But for these types of housing models to be successful, it's clear from what's happening at Domain Apartments that there must be buy-in from residents to make it work.
"We want to be so thoughtful about this product before we launch it because we understand there were risks associated, that there are fears associated with homesharing in general," Niido CMO Diffenderfer told Skift. "The large majority of people, especially in the communities and demographics we're approaching, really do want this lifestyle. We have exit plans and strategies for those who don't want to participate in it."
Regarding residents' concerns about rising rents and having to relocate to another apartment complex, Hernandez said, "At the end of the day, we will communicate that when we are ready. We do have an exit plan for tenants who see Niido as not necessarily something they want to be part of. We believe that the greater majority will see the benefits and participate."
These types of homesharing-friendly developments also raise questions about what types of communities are actually being built when long-term residents are living alongside more transient guests. Do people want to live in a place where many of their neighbors are temporary ones? What kind of a community can you really build when a large portion of it will only be there for just a few nights at a time?
It's not clear where Niido's three other planned complexes within the southeastern U.S. will be, or whether they will consist of newbuilds or existing multifamily housing properties.
But if Niido's experience with the residents of Domain Apartments has proven anything, however, it's that while it's probably easier to launch Niido with an existing apartment building than to build a brand-new one from the ground up, it's also absolutely critical to be as transparent as possible when doing so.