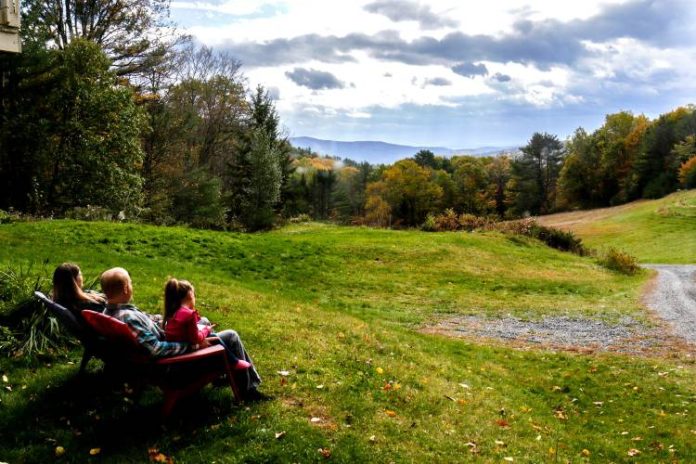 Hartland — Lauren Anderson, owner of Weaving Dreams Farm on Rice Road, where she raises alpacas, is doing it. So is her neighbor, Lesley Bracker, owner of Barron Hill Alpacas, a half-mile away on County Road. And their friend, Dan O'Brien, who owns a 5,500-square-foot home on Tinkham Hill Road up a ways from both of them, also has gotten in on the action.
Welcome to the Upper Valley's growing cottage (sometimes literally a cottage) industry: renting out your home — or parts of it — to guests on Airbnb, the online and mobile app that allows property owners to offer homes, rooms and even camping spots directly to people looking for everything from an overnight stay to a short-term residence.
"I hardly have to leave my property to have a social life these days," said Bracker, who raises alpacas on her Hartland farm and rents out three rooms for $65 to $75 per night in her circa-1820 farmhouse. "We're booked nonstop all year round."
Airbnb, which launched in 2008 as a way to help people find short-term accommodations in a tight San Francisco real estate market, has mushroomed in a short span into a global phenomenon, booking more than 100 million "guest arrivals" through its digital platform. At the same time, the high-tech startup is threatening the traditional hotel and bed-and-breakfast industry, a pillar of the Twin States tourism economy.
The growth rate of Airbnb in rural areas, in fact, is outpacing the growth rate of Airbnb in urban cities, a study by the company recently found. The median annual earnings of a typical rural "host" edges out that of urban hosts, $6,766 to $6,674, according to Airbnb.
In the Upper Valley, as elsewhere in the country, homeowners are turning their residences into income-generating opportunities.
Airbnb says there currently are 990 "active hosts" (defined as someone with at least one current listing) in Grafton County, which has a population of 89,400, and 400 active hosts in Windsor County, which has a population of 55,100. Last year, the typical host in Windsor County earned $6,800 cumulatively from an Airbnb rental — $400 higher than the statewide Vermont average — while the typical host in Grafton County earned $5,300, which was $800 below the statewide New Hampshire average.
"While our work with cities receives the most attention, Airbnb's growth is even stronger in rural America than it is in urban America," said Josh Meltzer, head of Northeast policy for Airbnb, in an emailed statement. "At the same time, home sharing helps rural communities welcome more visitors without having to invest in expensive, permanent hospitality infrastructure, including for major events that can bring unprecedented infusions of revenue and put unique, idyllic destinations on the global map."
The reasons homeowners in the Upper Valley, a region that has been wary about adopting technology-driven change, have embraced Airbnb appears to be largely the result of economics.
Bracker said renting out rooms has added an important fourth source of income to the three she is already juggling: her practice breeding Suri and Huacaya lineage alpacas, an online e-commerce business that reproduces artists' work on greeting cards, and a contractor business.
"This is Vermont, and people have to wear many hats," Bracker said.
But her neighbor and fellow alpaca farmer, Lauren Anderson, said renting out her two rooms — traveling nurses hired for three-month rotations at Mt. Ascutney Hospital and Dartmouth-Hitchcock Medical Center have become regular guests — is how the retired mother of eight now supports herself.
Last year, Anderson earned about $13,000 from Airbnb, she said.
"It's my only source of income," said Anderson, who has 12 alpacas on the two-century-old, 3-acre farm she bought five years ago after raising her family in California. "That and a little Social Security that began last year. I don't have a pension or anything."
"It's the greatest thing that ever happened to me," she said.
Disrupting an Industry
Airbnb takes a 3 percent cut of the host's rental rate as its fee. All transactions are paid through the service's software, and no money is supposed to be exchanged directly between the host and the guest. Airbnb also provides free liability insurance of up to $1 million to protect hosts against personal injury or property damage claims.
Not surprisingly, any service that has so profoundly "disrupted" the lodging industry has been the target of backlash from traditional hotel and bed and breakfast operators, who have seen Airbnb siphon off their business. They also complain that Airbnb hosts are not subject to the same stringent regulations covering everything from fire codes to food safety that traditional lodging industry businesses are required to follow.
To partially address the gap, Vermont passed a law earlier this summer that requires people who operate short-term rentals to comply with general health and safety standards in addition to registering with the state's Department of Taxes.
The "light" regulations, as the law's sponsor described them — they don't match those applied to the traditional lodging industry, which also may include an on-site restaurant and other recreation offerings — require short-term rental hosts to post the contact numbers for the health department, fire safety and the tax ID number on their websites.
Supported by the Vermont Chamber of Commerce, which represents the bed and breakfast industry, the debate over the bill initially weighed a requirement for rental hosts to pay a $65 registration fee, but that was resisted by the Scott administration, which has opposed additional taxes as a general policy.
Airbnb, as it has done with other states, struck a deal with the Vermont Department of Taxes in 2016 to collect the meals and rooms tax on behalf of rental hosts and remit the amount to the state. The meals and rooms tax is added to the guest's transaction cost and does not go through the host.
Nonetheless, it represents a new source of income for Vermont: Airbnb has collected and remitted a total of $7.2 million in meals and rooms tax to the state from October 2016 through Aug. 31 of this year, according to the company.
In New Hampshire, which has 1,000 fewer Airbnb hosts than Vermont, the state collected a total of $2.4 million in meals and rooms taxes from November 2017 — when its agreement with the state took effect — through Aug. 31 of this year.
The meals and rooms tax is 9 percent in both states.
Permitted Versus Unpermitted Use
Not all communities are welcoming to Airbnb, however. Portsmouth, N.H., shut down a city couple who were operating an Airbnb short-term rental, contending it violated the permitted use against operating a business on a residential property. The couple appealed to Superior Court, which in June found in favor of the city.
And the rise in Airbnb led Woodstock a couple years ago to clamp down on enforcing 2003 zoning regulations that restrict short-term rentals by requiring property owners to obtain conditional use permits if they are renting rooms or homes for less than 30 days. In addition, short-term rentals are allowed no more than six times per calendar year in the village and no more than 10 times per calendar year in the town, although property owners are exempt during foliage season from Sept. 15 to Oct. 21.
The distinction between simply renting out a room on a short-term basis and operating a business is critical, said Bill Matson, president of Eastman Community Association, the homeowners' group for about 1,300 residences in the community located in Grantham, Springfield and Enfield.
There currently are about seven properties in Eastman listed for rent on Airbnb, Matson said, checking the website.
"Virtually all of those are homes, and in that context what people are doing on Airbnb are within the guidelines of the homeowners' association," he said.
"But if somebody decided that they had eight bedrooms and set up a bed and breakfast there, that would cross the line into becoming a business" and be prohibited by the association's rules, he said, adding that the rules pre-date the existence of Airbnb and no new ones have been adopted in its wake.
Many property owners at Eastman sublease their residences, Matson said, which isn't necessarily the issue.
"At the end of the day, if (Airbnb) is just another vehicle to rent, in that sense it's not a problem. What becomes a problem is if people use it to establish a business."
Motor Homes, Yurts and Campsites
Some property owners in the Upper Valley have found inventive ways to utilize Airbnb.
One man in Thetford Hill is renting out his "vintage motor home," which is hooked up to his house's water and electricity supply and includes a "queen size bed" with a "memory foam" mattress "for great sleep," according to its Airbnb ad. Yurts — tentlike structures on platforms — are available in the woods of Barnard and Hartland.
Amanda Seidler, of Fairlee, and her husband, Eric Seidler, in 2016 began renting out their "in-law suite," which comes with its own kitchen, and now charge $125 per night. The work-at-home couple, who have a young daughter and are expecting their second child, earn about $5,000 a year from their Airbnb rental on Blood Brook Road.
This past summer they even began listing a "Cloud 9" campsite on their property for $25 a night, a price that also covers "one night of firewood."
"It's across the house in the field," Amanda Seidler said about the campsite. "We put up a picnic table and a fire grill like you see in the park."
"We're going to stop the campsite once the snow starts flying," she said.
The prospect of using her home to generate extra income is what motivated Amy Franklin to list her home on Airbnb in 2016 after she finished building it on her family's pick-your-own farm in Plainfield the year before.
Franklin, whose parents, Paul and Nancy Franklin, own Riverview Farm on River Road, built her house on the property next to a pond and near the field of blueberry bushes.
"In the process of building it, I thought, 'Oh man, if I'm going to be able to afford this it would be pretty nice to have a cushion of extra insurance. … I'm too old for a roommate.' "
Franklin charges up to $345 a night for the house, which sleeps four, with two bedrooms and two baths. She said she rents it out a total of about 40 nights a year and has generated $8,000 to $10,000 annually from a steady stream of Dartmouth-related visitors and tourists.
Franklin, who has her own gardening service business and moves into her parents' house on the property when she is renting to guests, said the income she gets from Airbnb "pays my taxes and a little extra … it's that cushion."
But just because someone is a veteran Airbnb host doesn't necessarily mean he or she is also an experienced Airbnb guest.
"If I traveled, I would definitely use it," said Anderson, one of the Hartland alpaca farmers.
But, "I don't travel much. I have farm animals."
John Lippman can be reached at [email protected].