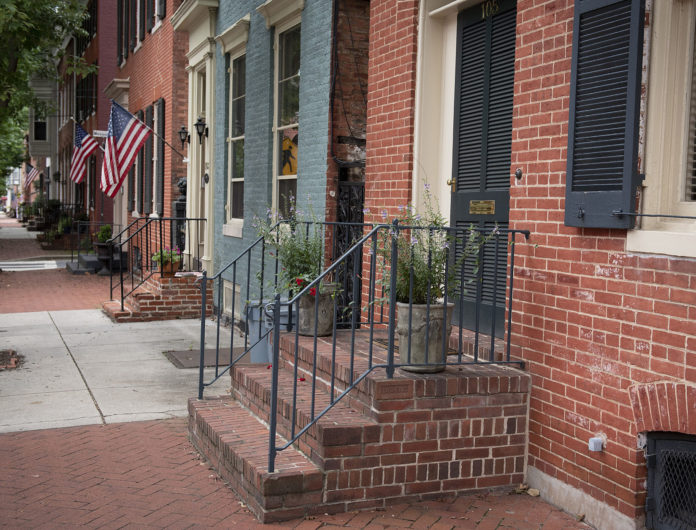 Airbnb owners in the city of Frederick who have managed to escape regulation and licensing on their short-term residential rentals now have the city code on their side to continue operating outside the watchful eye of the local government.
That is, unless a longtime licensed and regulated downtown bed-and-breakfast owner levels the playing field.
Phillip LeBlanc, who co-owns Hollerstown Hill on Clarke Place, has been vocal about his disdain for the lack of governmental oversight on short-term rentals listed on websites such as Airbnb. Although he lists Hollerstown Hill on Airbnb as well, LeBlanc's property is unique because he has also gone through all the proper channels to license and legitimize it as an official bed-and-breakfast under city code. In turn, he believes an unfairness exists because hundreds of other Airbnb owners are not required to obtain licenses and have little to no oversight on their rentals.
But until Joe Adkins, the city's deputy director of planning, issued a zoning determination on June 29 stating that the city code does not contain any language regulating short-term residential rentals, LeBlanc had nowhere to file his grievances on the issue.
Now that he does, he has filed a roughly 40-page appeal that is set for a hearing before the Board of Zoning Appeals on Oct. 23.
The zoning determination
City planning staff members frequently make zoning determinations for specific properties and uses as they come up.
Sometimes staff initiates them, and other times, property owners bring them forward. Adkins said officials look at similar uses in the zoning matrix and classification codes, determine if similar uses exist in national codes, call other jurisdictions, and use their best planning judgment to make the determinations.
In the case of the short-term residential rentals, Adkins said planning staff members made the determination because of the growing popularity of online short-term residential rentals.
"We sort of saw what issues were coming up and we decided to ask for the determination," he explained.
Anyone who wishes to appeal the decision has 30 days from the time of the filing to do so. Adkins said appeals are rare and recalled only one or two during his tenure with the city's planning department.
The short-term residential rentals determination states that the code does not include a distinction between short-term and long-term rentals or between "dwelling units that are rented and those that are owner-occupied." In turn, he said that means nothing exists in the code that would require city officials to regulate those types of rentals.
"None of the forgoing analysis changes in any way as a result of whether properties are marketed through web-based platforms such as AirBnB or through more traditional methods," the determination said. "Compliance with the [land management code] is determined through the actual use of the property, not the way in which such use was marketed."
Basically, that means that nothing in the code requires the city to regulate rentals listed on online sites such as Airbnb, thus freeing the owners of any code compliance requirements unless something is filed to change the code.
LeBlanc, however, reads the code differently.
The appeal
LeBlanc argued several points in his filing, which he had to pay $300 to submit.
First, he said that no solid definition exists for short-term residential rentals, thus the zoning administrator cannot technically summarize their use.
"How can you make a statement about a short-term rental without defining what it is?" LeBlanc inquired while discussing the matter.
He also believes that the zoning administration — Adkins and his staff members — did not look at the entire land management code when they made their determination, only certain portions of it.
"They are not looking at the complete code, they are looking at a few sections and saying, 'a dwelling is for families.' Well, only in a certain context," LeBlanc explained.
In turn, he said members of the zoning administration are not enforcing their own codes when it comes to short-term, online rentals.
"If you're a citizen of this town and you think you live in a residential area that will radically be residential, that is not what zoning is doing," he said. "It is allowing businesses to encroach on your neighborhood and turning it into [an] Airbnb haven."
LeBlanc added that although he supports regulating Airbnb rentals, he is not trying to create new legislation through the appeal.
"I'm just simply saying it's defined in the code and you should be following it," he said. "Just simply saying it's defined in code and you should be following it. I'm not suggesting it's right or wrong, I'm just simply saying they are not following it."
He also made a host of other points, which are included in the filing. But overall, he called the determination "incomplete," "not concurrent" and "erroneous," and is asking the zoning board to reverse it.
"Somebody needs to take some action," he said. "The primary reason, as we've discussed before, is as the world turns, more and more people are turning their residences in neighborhoods into Airbnbs."
Current climate for Airbnb owners
In Frederick, like many other communities in the country, Airbnb owners can pretty much do as they please.
They are not regulated and they do not have to pay any extra taxes to the local community. Residents such as LeBlanc have been complaining for some time about not only the unfairness, but also about the existence of the transient neighbors and the effect on things such as parking and safety.
Some neighboring counties have taken the plunge and charged taxes to Airbnb owners, and legislation has floated around the state to regulate them, but nothing has stuck yet. Members of a Neighborhood Advisory Council 11 subcommittee — with which LeBlanc is involved — are still researching the matter to come up with recommendations for potential local legislation.
But until something happens, online rentals will continue to operate without any oversight.