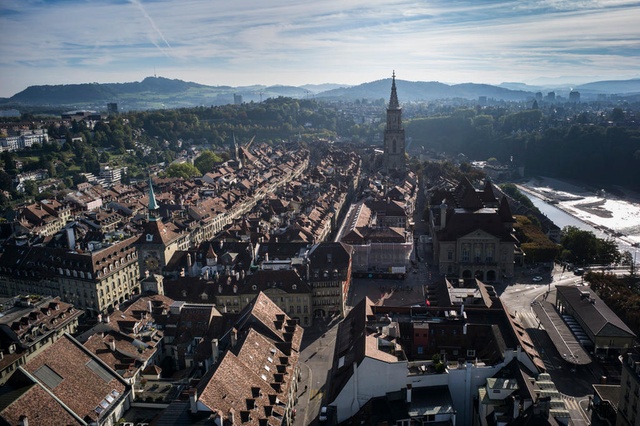 A new proposal could make it easier for tenants to sublet using online accommodation platforms such as Airbnb. But other regulations continue to clamp down.
The pattern is familiar: a new technology or innovation appears; public enthusiasm drives it beyond the scope of regulators to keep up; it grows more dominant; associated problems arise, competitors kick up a fuss; the public cools, politicians belatedly try to impose some order.
Many pioneers of the tech economy – from Uber to Facebook – have seen themselves chased by regulators in recent years. All the more surprising, so, that in Switzerland – a country where change is often slow – legislation recently proposed at the federal level appears to facilitate Airbnb's growing foothold in the accommodation market.
On July 3, a three-month consultation process launched by the government comes to an end. It proposesexternal link (link in French) relaxing a current rental law that obliges tenants to ask permission from their landlord each and every time they want to rent via platforms like Airbnb; from now on, it says, a general landlord's permission note will suffice to sublet repeatedly over a given period.
And if the landlord wants to refuse the request, he must have good reasons: if neighbours or security were to be compromised by an Airbnb profile that reveals too many photos of surrounding apartments, for example; or if the rental involved regularly hiding keys giving access to the entire building.
Out-of-date
Reaction to the proposal (which is, admittedly, at first glance, minor) has been one of guarded welcome. Airbnb is happy, unsurprisingly, though in an email to swissinfo.ch their spokeswoman didn't comment on the specifics, rather simply praising Switzerland's open attitude towards dealing with new "healthy forms of tourism".
ASLOCA, a group representing the interests of Swiss tenants, wrote (in French)external link that the change would be a welcome update to an "anachronistic" rule, and would simplify the relations between landlords and tenants. However, it adds, none of this should distract from the larger issue of availability of affordable accommodation in Swiss city centres – a problem it worries Airbnb exacerbates.
Landlord associations, at least in French-speaking Switzerland, were more cautious. Not only does the proposal make it more difficult to refuse the right to sublet, the Romandie Real Estate Federation saidexternal link (in French), but it fundamentally undercuts the principle of subletting in general. The right to sublet is (for example) for tenants who temporarily leave the country, it says, not for those looking to do quick business.
And as for the federal authorities who proposed the change, they agree that it is a case of bringing current legislation into line with the "reality" of current practices. In theory, says Cipriano Alvarez of the Federal Housing Office, offering one's apartment or room on Airbnb under existing rules is illegal; but time-pressure and sheer common sense suggests that a tenant will not be phoning or sending letters to a landlord for each and every one- or two-day visitor. And you can't prosecute everyone.