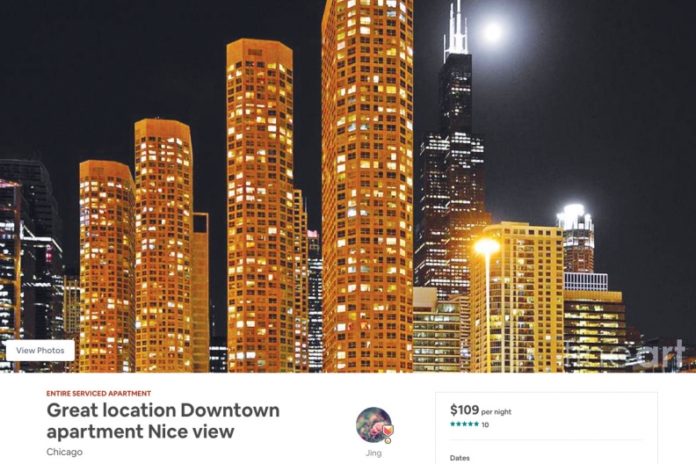 More than a year after the city of Chicago started enforcing its home-sharing regulations, it's harder to run an illegal home rental through Airbnb. But maybe not hard enough.
A quick search for West Loop listings on Airbnb's website will turn up at least 10 illicit rentals in Presidential Towers, the huge four-building apartment complex between the Chicago River and Kennedy Expressway. Nightly rates range from $75 up to $169, the price for a "modern yet comfortable" apartment that will "soothe and refresh after a day of exploring nearby city sights."
The listings demonstrate that the city's multiyear effort to clamp down on vacation rentals remains a work in progress. And some aldermen are getting impatient, calling for stronger enforcement and more rules.
The City Council passed the vacation-rental ordinance in June 2016, responding to a growing chorus of complaints about Airbnb, the San Francisco startup that has grown into a home-sharing behemoth, valued last year at $31 billion. The privately held firm, which collects commissions when its hosts rent their homes through its website, has nearly 8,000 listings in Chicago.
The regulations limit vacation rentals in buildings and require hosts who want to rent out their condos or apartments to register with the city. In August 2017, the Chicago Department of Business Affairs & Consumer Protection launched a computerized registration system connected with Airbnb to gather information about its hosts and determine whether they are eligible to rent out their properties.
"It hasn't been a cooperative relationship," Reilly says. "What we have is Airbnb pointing fingers at Business Affairs and Business Affairs pointing fingers at Airbnb."
Friction between the two burst into the open in August, when the department notified 2,400 Airbnb hosts that it would not renew their licenses, according to the Chicago Tribune. The agency said the hosts had failed to provide required information, like their addresses.
Rosa Escareno, commissioner of the department, told the Tribune that Airbnb "failed to address the issue." Escareno declined an interview request from Crain's, but the department issued a statement with a softer tone: "We are in close communication with Airbnb to work through this process to ensure public safety, promote compliance with city ordinance including any restrictions on unit activity within specific buildings, and support the house-share economy for hosts and visitors."
Airbnb spokesman Christoper Nulty says the firm has been working closely with city officials to provide the information they need to enforce the regulations.
The city needs addresses from hosts to determine whether they are allowed to rent out their units. Under the home-sharing ordinance, apartment landlords or condo boards can place themselves on a "prohibited buildings list," where vacation rentals are banned. The rules also forbid more than six short-term rentals at once in big buildings.
Presidential Towers is a prohibited building. So is Mila, a 41-story luxury apartment tower just north of Millennium Park. But a two-bedroom apartment in the building is available on Airbnb for $349 per night. If that's too much, you can pay $124 per night for a one-bedroom apartment in Millennium Park Plaza, another prohibited building just down the street.
Those are just a few examples, but it's hard to come up with an exact count of illegal Airbnb listings. The Department of Business Affairs & Consumer Protection would not provide any data for this story. Finding illegal listings takes some sleuthing because Airbnb does not provide specific building addresses on its website. But some can be identified by matching photos on the Airbnb website with photos on the buildings' websites.
Some listings also include a red flag: They lack a license number as required under the ordinance. Instead, they say that registration is "pending," one sign that the city is awaiting more information before it issues a license. At the end of September, just 2,872 Airbnb properties in Chicago had a license, with 5,361 pending, according to AirDNA, a Denver-based data and analytics firm.
Nulty, the Airbnb spokesman, says it's unfair to suggest that the high number of pending registrations includes a lot of illegal listings. The pending number is so high because many hosts are in the process of renewing one-year licenses they received in late summer and early fall 2017, when registration began in earnest, he says. In July, before the renewal process began, 5,850 listings on Airbnb were registered with the city, Nulty says. The vast majority of those listings are going through the renewal process now, he says.
Airbnb also is ahead of competitors HomeAway and Booking.com in working with the city to implement the city's home-sharing regulations. HomeAway, a unit of Expedia, took the city to court over the ordinance but dropped its lawsuit in June. It's unclear how many HomeAway listings are licensed with the city. HomeAway did not provide listings data in time for this story.
But Airbnb remains a lightning rod at City Hall. Ald. Michele Smith, 43rd, accuses Airbnb of foot-dragging and making it hard for the city to enforce the regulations. "It has been frustratingly slow, and that is really due to Airbnb's recalcitrance," she says.
Smith plans to introduce a proposal in the City Council that would raise more money for enforcement by increasing home-sharing licensing fees. She also wants to prohibit the city from allowing hosts to continue to operate with pending licenses.
Until then, you can take your pick of apartments at Presidential Towers. A spokesman for the property's owner, Chicago-based Waterton, did not respond to a request for comment.
One Airbnb host in the building, named "Jenny," says through the Airbnb internal message system that she recently applied for a license from the city. She didn't realize that her listing was illegal until she was told by a reporter. "You have brought me enough bad news . . . can't help you any further," she says. "You made my day so bad."