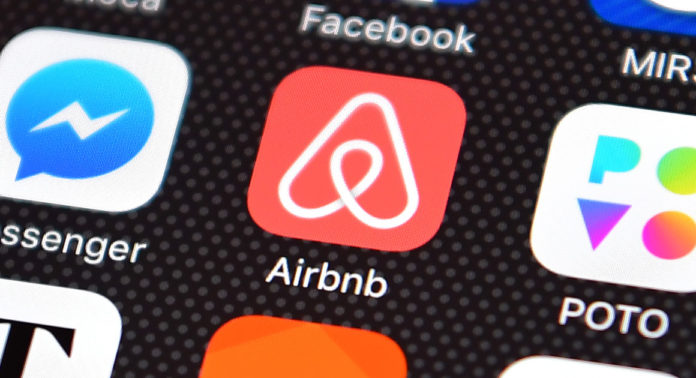 SAN FRANCISCO (CBS SF) — San Francisco officials are suing a couple for allegedly turning their Bernal Heights home into an illegal hotel where a party was held by guests last year that ended in a wild shootout.
City Attorney Dennis Herrera announced the lawsuit on Wednesday, revealing that during a short term rental in October 2017 a party was held in the residence that ended with a massive early Sunday morning shootout that "sent dozens of partygoers fleeing through the neighborhood, running from rooftop to rooftop and trespassing through residents' backyards."
Acting to the suit filed against Erik M. Rogers and his wife, Anshu Singh, Herrera said that police recovered more than 100 bullets and shell casings from the gunfight littered throughout the home and neighborhood.
Bullets pierced neighbors' homes, damaging windows, doors and, in one house, the living room. Eighteen parked cars were damaged by gunfire.
Fortunately, only one person suffered a non-life threatening injury in the shootout. However, a neighbor was also injured weeks later when they found a discarded firearm in his backyard and accidentally discharged it, suffering a hand wound.
A City Attorney's Office investigation found that between June 2016 and October 2017, Rogers and Singh had unlawfully rented out 212 Banks St. as a short-term rental on online sites Airbnb and HomeAway/VRBO for at least 319 nights, charging nightly rates sometimes topping $800, while they lived in Bali, Indonesia.
"This is exactly why San Francisco has common-sense regulations on short-term rentals," Herrera said in a press release. "In the middle of a housing crisis you have a couple who aren't even living in the country turning a house into an illegal hotel for tourists and partiers. This could have been a home that kept one more family in San Francisco. Instead, it brought a deluge of gunfire to a quiet neighborhood. We are changing that."
Herrera is seeking a court order requiring the property to be brought into compliance with the law and imposing stiff restrictions to ensure it's not used as an illegal hotel.
The lawsuit also seeks hundreds of thousands of dollars in monetary penalties to deter future violations.