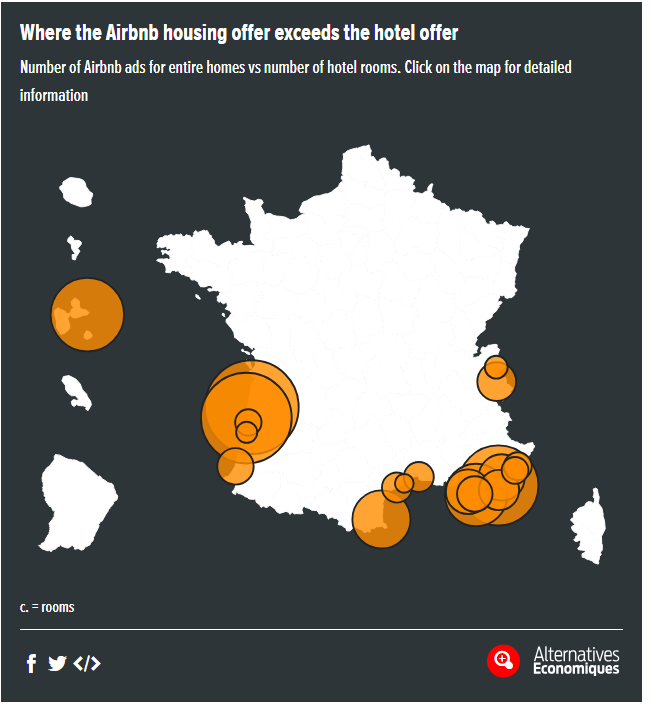 France is Airbnb's second largest market behind America, with nearly half a million advertisements listed on its platforms.
Alternatives Economiques, working with InsideAirbnb, has published a report on the growth of the platform in France, finding:
In a number of cities, the supply of Airbnb accommodation exceeds the hotel offering.
Of the listings screened over 20% were rented for more than 90 days and therefore likely to be "outlaw hotels" rather than shared homes.

Over 18% of total apartment listings in Paris are published by private individuals or professionals who rent out more than one apartment. T

he most active of them manage between 50 and 139 ads. 

In Savoyard ski resorts, more than 70% of ads that are published by people renting more than one apartment! It's over 50% in tourist cities like Carcassonne, Colmar, Honfleur, Cannes, Lacanau or Porto Vecchio. This has a large impact on the tourists cities.
This data points to the growth and growing professionalization of the Airbnb platform. it also points to the severe impact this can have on small resort towns who are often forgotten in discussions of Airbnb's impact.
For the full article click the link, you'll need to install a page translator on your browser.