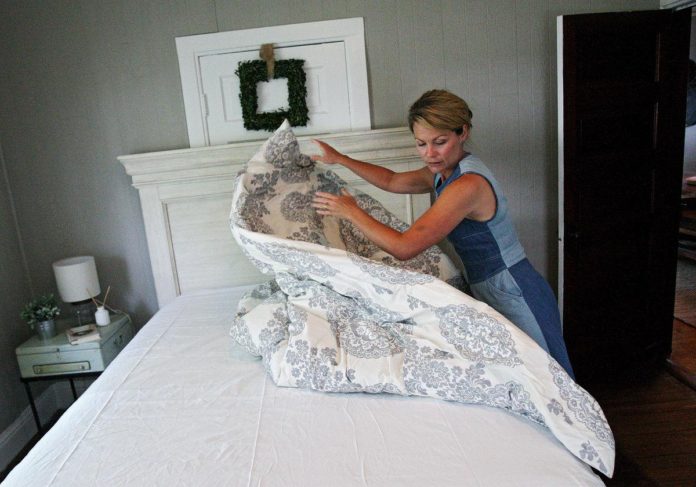 Christy Dokken, who runs an Airbnb with her husband out of a Rochester duplex they own, makes one of the two beds in the first floor unit ahead of a guest's arrival in July.
The Rochester City Council is ready to discuss a potential ordinance to regulate short-term rentals.
"I'm not anti-Airbnb in any way, but what's going on is really not what you would consider a bed-and-breakfast, where you are actually renting out a room in your home," Council Member Michael Wojcik said, joining Council Member Ed Hruska in requesting staff to make policy recommendations on the topic.
Wojcik said he supports online services such as Airbnb and VRBO, but sees them taking a wrong turn in Rochester, where investors are buying homes and using them exclusively for business purposes.
"That's just not allowed, period, and that's happening a whole bunch right now," he said, citing concerns that the practice takes affordable housing off the market.
Nick Campion, the sole council member to oppose directing city to make policy recommendations, called the suggestions made Monday "clumsy."
"The affordability discussion is a poorly founded strawman that leaves people who care about a new business to try and fight all the affordable housing arguments," he said. "That's not a valid way to go about this."
With an estimated 200 to 300 short-term rentals available in Rochester, Campion said they cannot all be considered as affordable housing options, and efforts to force regulation on the industry are misguided.
Wojcik said he agrees with some of Campion's points, indicating a desire to see that any regulation is also met with support from the city.
"We're bringing these from being a secret that's out in the open to being part of the marketplace in Rochester," he said, echoing Campion's expectations that the owners would see benefits similar to those expected by the city's hotels.
Several council members noted they have heard repeated complaints regarding short-term rentals, and it's not the first time they discussed the possibility of regulating short-term rentals.
In March, the council discussed the issue as a growing concern and cited a desire to move forward with potential regulation.
"Our town is unique, but I think there is an opportunity for us to factor in some of those things but also stay ahead of this a little bit," Hruska said at the time.
On Monday, he said he believes it's time to move forward and suggested an Oct. 31 deadline for staff recommendations on the topic, citing concerns about market demand, public safety, affordable housing and marketplace fairness.