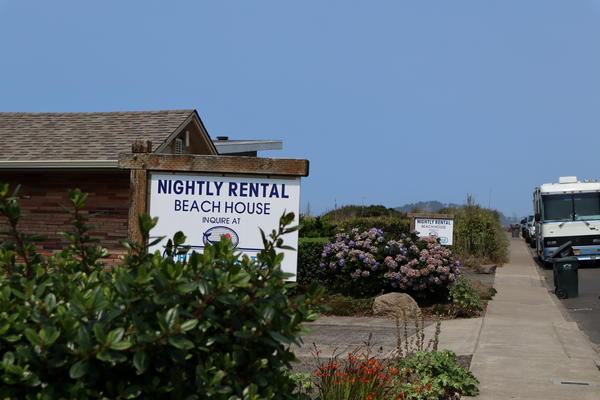 The cities of Portland and Salem made eyebrow-raising discoveries earlier this month when they compared the number of formally licensed short-term rentals with actual listings scraped off of the Airbnb platform. Around 80 percent of the listings appeared to be unregistered.
Now, cities are finding a new way to monitor unregistered listings: third-party vendors with names like Host Compliance and STR Helper.
Those two startups see a business opportunity in the proliferation of short-term vacation rentals. So they are offering to help Pacific Northwest cities root out unlicensed or tax-dodging Airbnb-type rentals.
"It helps with room tax collection because we can compare who we have records of," said city of Newport community development director Derrick Tokos. "And then they'll say, 'Well, here's some others that appear to have been rented. You may want to check it out.'"
Tokos said Newport hasn't decided whether to sign a contract with either vendor, though both have pitched their services. He said a "courtesy scan" shared by Host Compliance estimated roughly 20 percent of the short-term rentals available in the Oregon beach town were unlicensed.
Tokos said one service that piqued local interest was the possibility of creating a 24/7 complaint hotline for neighbors to report problems. The city might pair that with a "three strikes and you're out" policy for yanking the permit of a vacation rental unit, he said.
Eugene, Lake Oswego, Gearhart, Hood River and Rockaway Beach in Oregon, as well as Vancouver and Nelson in British Columbia, have all signed up for short-term rental compliance support.
The vendors say they can do remote compliance monitoring and initial outreach to short-term rental proprietors listed on platforms such as Airbnb, Flipkey and HomeAway on a more cost-effective basis than if a city worker were assigned that task. The cost of the monitoring contract would ideally be covered by increased permitting fee revenue and lodging tax collections.
In an interview, League of Oregon Cities policy specialist Wendy Johnson said estimates for missed lodging tax revenue vary widely. She suspected the state may be "leaving money on the table."
"It's also fair to say that the sharing economy keeps evolving and it has been challenging for local governments and the state to enforce their respective lodging taxes within it," Johnson said Wednesday. "Most don't have the staff, resources or technology dedicated to monitor all the short term rentals that have proliferated in the last few years. They are not like the hotels that are obvious in a community."
A Portland audit of short-term rentals released this month noted that while large numbers of short-term rentals are not licensed, Airbnb, VRBO, Vacasa and other intermediary platforms have begun to remit lodging tax revenue.
The Portland city audit and Johnson both mentioned how the big online companies that facilitate rentals won't disclose the addresses of hosts, making it difficult to verify whether taxes and code compliance are fully in order.
Airbnb did not immediately reply to an emailed request to elaborate on its regulatory compliance policies.