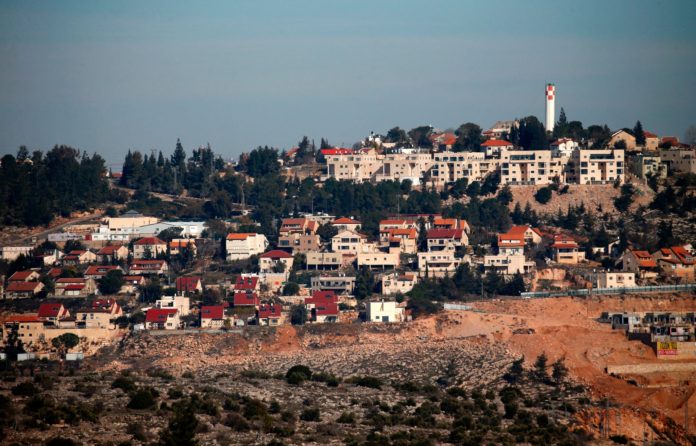 JERUSALEM — One host, Moriyah, lists the location of her bed-and-breakfast on Airbnb, the home rental site, as Biblical Shiloh, Israel.
It sleeps up to 12 guests for under $140 a night. It has a hot tub. And the area around it offers hikes and springs, workshops and holistic treatments.
What the listing does not make clear is that this B&B, named "Peace of the Valley," lies in a Jewish settlement in the Israeli-occupied West Bank.
Most of the world considers the settlements, built on land Israel captured in the 1967 war, to be a violation of international law. Even the Israeli authorities have deemed illegal some of the unauthorized outposts where Airbnb accommodations can be found.
On Monday, Airbnb, long under pressure from Palestinian officials, anti-settlement advocates and human rights groups to end its West Bank settlement listings, announced it would do just that.
"We are most certainly not the experts when it comes to the historical disputes in this region," the company said in a news release. "Our team has wrestled with this issue and we have struggled to come up with the right approach."
In the end, the company said it would remove about 200 listings in West Bank settlements that "are at the core of the dispute between Israelis and Palestinians."
The decision prompted an immediate uproar in Israel.
Israel's tourism minister, Yariv Levin, called on Airbnb to rescind its "discriminatory decision," which he called "a disgraceful surrender." He said he had ordered his office to come up with immediate measures to limit the company's activity throughout the country, without elaborating.
Referring to the West Bank by its biblical names, Mr. Levin said he had also instructed his ministry to promote a program to encourage tourism and accommodation in vacation apartments throughout Judea and Samaria.
Gilad Erdan, Israel's minister of strategic affairs, also took issue with Airbnb's decision.
"National conflicts exist all over the world," said Mr. Erdan, whose duties include combating the so-called B.D.S. movement, for boycott, divestment and sanctions. "The senior management of Airbnb will have to explain why they specifically, and uniquely, chose to implement this political and discriminatory decision in the case of citizens of the state of Israel."
Mr. Erdan called on the Airbnb hosts affected to file lawsuits against the company under Israel's anti-boycott law. He also said he would take up the matter with American officials to discuss whether the decision violated anti-boycott legislation that exists in 25 states.
A listing on Airbnb for the "Peace of the Valley" bed-and-breakfast.
Eugene Kontorovich, director of international law at the conservative, Jerusalem-based Kohelet Policy Forum and a professor at George Mason University, suggested that Airbnb was on weak ground.
"This is not about disputed territories, as Airbnb has listings in Moroccan-occupied Western Sahara, Turkish-occupied Cyprus, and more," he said in a statement. "So it is only Jewish properties in the Jewish homeland that are banned. Airbnb's approach of singling out Jews from all the disputes in the world will put it at odds with U.S. state B.D.S. laws and principles of discrimination."
Professor Kontorovich said Airbnb had been "bullied" by the United Nations Human Rights Council which, in 2016, mandated the compilation of a blacklist aimed at companies doing business in the West Bank, Israeli-annexed East Jerusalem and the Golan Heights.
Israel's official position is that the territory in the West Bank is disputed, not occupied. The fate of the settlements, it says, should be resolved in negotiations with the Palestinians.
Settler leaders called Airbnb's decision "anti-Semitic."
In a measure of the depth of the dispute over the territory, one Palestinian leader said Airbnb had not gone far enough.
Saeb Erekat, the secretary general of the Palestine Liberation Organization, said that while the decision was "an initial, positive step," Airbnb had failed to state clearly that "Israeli settlements in the West Bank, including occupied East Jerusalem, are illegal and constitute war crimes."
Human Rights Watch, the advocacy organization, said it had been speaking with Airbnb about its West Bank listings for two years, and it urged other companies to follow its example. The group said it would issue a report titled "Bed-and-Breakfast on Stolen Land: Tourist Rental Listings in West Bank Settlements" on Tuesday.
One settlement resident, Eliana Passentin, 45, said she had listed her home in Eli, overlooking ancient Shiloh, on Airbnb in the past and had been thinking of doing so again for the Hanukkah holiday in December.
Ms. Passentin, who has been living with her family in Eli for 23 years, said people from as far away as Nigeria had contacted her, wanting to pray in her garden overlooking ancient Shiloh.
Ms. Passentin listed the location of her accommodation as "Eli, Israel" because, she said, it was just like anywhere else in Israel.
"They've been misled," she said of Airbnb. "I hope a lot of pressure will be put on the C.E.O. of Airbnb and they'll realize they made a huge mistake."
Ms. Passentin said: "It's really about bringing people together, not politics. That's what governments are for. We don't need Airbnb for that."