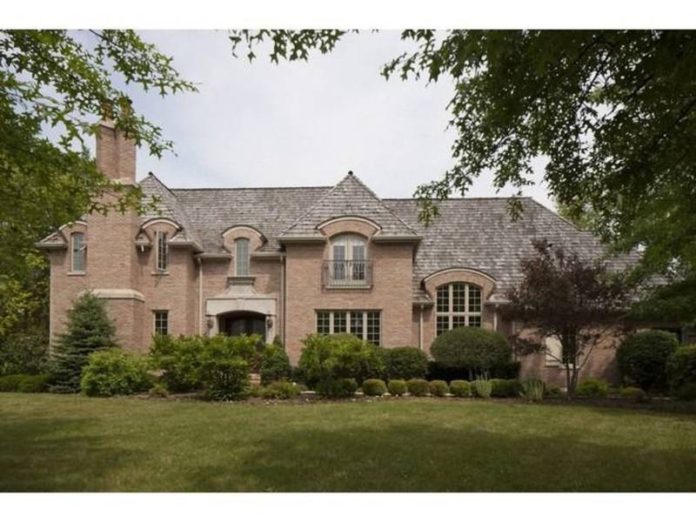 HIGHLAND PARK, IL — A homeowners association is asking a judge to block the owner of a mansion from renting it out on a short-term rental website. The association changed the rules of its membership agreement last year to exclude such leases of less than a year from permitted uses of the five properties located on a small cul-de-sac south of Half Day Road off of Ridge Road in west Highland Park.
Despite tens of thousands of dollars in fines and a cease and desist letter, the property remains listed online for rent one day at a time. Neighbors hope a Lake County court will put an end to the practice of vacation rentals by the home's owner and his daughter, both of whom live out of state, which have led to disruption, debauchery and property damage.
Bal K. Bansal bought the Cooper Lane home in 2005 for $1.9 million as its first owner, according to property records. It was listed in 2012 for $2.19 million, and the asking price was gradually reduced to $1.425 million in 2015 before being pulled off the market.
It's now listed on the vacation rental by owner site Airbnb at a nightly rate of more than $700.
One of the block's full-time residents, Ken Cooper, told Pioneer Press they have to clean up beer cans from the street after parties. He said some of his neighbors have had their homes damaged by guests and police have had to be called to shut down a party of 300 people.
"The four other home owners are frustrated by the use of a residence as a commercial hotel with all the noise and vices a hotel creates including heavy traffic and drunkenness," Cooper said. "When the wind comes from the west, one can smell the dope being smoked."
The Highland Park City Council considered banning short-term rentals last year but decided against it since the Bansal property was the only one whose neighbors were complaining to police, according to Highland Park News. Council members instead allowed an amendment last year to the rules of the homeowners association mandating any rentals last a minimum 12 months.
The Cooper Lane Homeowners Association alleged in a filing in Lake County Circuit Court, where its seeking an injunction, that the home was rented in violation of the rules more than 20 times between September and April, Pioneer Press reported. Bansal had been fined more than $40,000 as of April by the association, which sent him a cease and desist letter last year before filing suit in November.
According to the home's Airbnb listing, rentals as hosted by Bansal's daughter, Rania Bansal of Highland Park. However, she alleged in a court filing that she spends about 10 days a month at her mother's Highland Park house but the bulk of her time at her own home in Ohio, according to Pioneer Press. Her father told the court he has authorized his daughter to manage the property but he payments are sent to his account.
The short-term rental listing describes the house as 10,000 square feet and six bedrooms, however its real estate listing from the last time it was offered for sale pegs it at 6,700 square feet and five bedrooms.
In April, nearby Lake Bluff approved a pilot program allowing for six short-term rental permits following a year of contentious debate featuring no shortage of letters and lawn signs. Some other communities ban vacation rentals outright, while others require property owners to register and pay taxes and fees.
Prior to being offered as a vacation rental by its former resident, the Cooper Lane home was leased by Chicago rapped Chief Keef before he was evicted for missing about $30,000 in rent payments, the Chicago Tribune reported in 2014.
Attorneys listed for both parties have not responded to a request for comment. The next status hearing in the case – Cooper Pond of Highland Park Homeowners Association vs Bal Bansal and Unknown Owners and Occupants — is set for July 27 in Waukegan before Judge Luis Berrones.